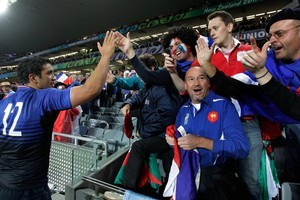 The All Blacks may have one hand on the William Webb Ellis Cup, but to claim it outright they must beat their Rugby World Cup bogey team, France, for the second time in this tournament.
France were convincingly beaten by the All Blacks in pool play, but the memories of 1999 and 2007 remain, and not every observer is so quick to write them off.
Supporters of the French team told nzherald.co.nz what they made of comments made by New Zealand fans and experts, and whether they believed Les Bleus have what it takes to win on Sunday night.
Some had no doubt about the result.
"Everyone here in France is realistic. We are not going to win that final," wrote Charles.
A person calling themselves Frenchy agreed: "Here in France, the press and people think the All Blacks will win.
"They are the best team in the world."
Their comments, however confident, weren't representative of the entire French supporter base.
"When I read that we do not deserve to be there, I can just respond that we are there, whether people like it or not," wrote Bert.
"Rugby being rugby, and me being French, I can only say that we are not dead yet, and that we will do all we can to spoil your day."
On nzherald.co.nz's Facebook wall, Henri Bondu posted a cartoon of an angry rooster next to a menu.
The menu reads: "Une rose, une poireau, et en dessert, il y aura..." ("a rose, a leek, and for dessert there'll be...") with a drawing of a kiwi bird sliced up like a kiwifruit.
"There will be no French in the shepherd's pie, only Kiwi [eaten] by the slice or with a spoon," he wrote.
"We'll eat you boys," warned la grenouille, (the frog), who said that the French people were "humiliated" by New Zealanders' comments about Les Bleus.
"Our planes are the best, our trains are faster, our knowledge is greater, and our rugby team is maybe not as good as yours but we are back, physically and mentally. We are the champions."
Others described the French respect for the All Blacks, rugby's most dangerous team, and were looking forward to a good game.
To meet the All Blacks in the Rugby World Cup final would be an honour for Les Bleus, Marie told nzherald.co.nz.
"All the French people have a deep respect and sincere admiration for the All Blacks."
Baz said he was a French rugby fan, but appreciated the talents of all teams.
"We in France absolutely admire and respect New Zealand rugby as the best that has ever existed. We are just honoured that sometimes (very seldom) we manage to win a game.
"Let's hope for a great game of rugby on Sunday."
The Rugby World Cup final kicks off at Eden Park at 9pm on Sunday night.