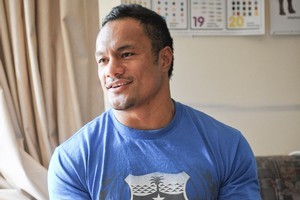 The Samoa Rugby Union is "extremely disappointed" Eliota Fuimaono-Sapolu failed to respond to requests to attend a misconduct hearing in Auckland today.
Fuimaono-Sapolu was provisionally suspended from all rugby by the IRB after he failed to turn up to a judicial hearing over his Twitter tirade against Welsh referee Nigel Owens.
In his tweets, Fuimoano-Sapolu used colourful language and called referee Owens a racist after Samoa's 13-5 defeat to South Africa last Friday.
The Union slammed the player's behaviour and insisted his comments made on Close-Up and Campbell Live last night were "totally unrepresentative" of the Union and the team. He is "supposed to be an ambassador for Samoan Rugby."
"The SRU supports the RWC 2011 disciplinary process and urges Eliota to make contact with the team immediately," the Union said.
Fuimaono-Sapolu told Campbell Live last night he will continue to point out the IRB's injustices, even if it costs him his rugby career.
He said today he did not even know the IRB had called a hearing.
"I've only recently found out that there was a hearing. I did not know when the hearing was going to be. I had absolutely no idea," he told Campbell Live.
Asked if he would have gone had he known about the hearing, he said: "Perhaps."
The Union said it made every effort - through telephone and social media - to contact the player regarding the charges and hearing details.
"Despite repeated contact attempts, his appearance on New Zealand television and his apparent location in Auckland, the Union and the team are yet to hear from Eliota since the team dispersed in the weekend."
Fuimaono-Sapolu last night said of the IRB:
"They don't really have most people's trust at the moment, and then you look at a lot of the calls that have been made throughout this World Cup, a lot of injustice has been dealt by the IRB.
"So I would struggle to trust that they would come up with a just decision on me."
Fuimaono-Sapolu denied the hearing would have been an opportunity to get his points across.
"I just don't think they would listen anyway. I'd probably go just simply to get punished."
Fuimaono-Sapolu said there was "so much injustice" being dealt out by the IRB, with referees always seeming to make bad calls when Manu Samoa played.
"We always get bad referees, we always get the stereotype that we don't know how to play rugby, the stereotype that we're thugs, we're violent, we're stupid - we always get that," he said.
"Now we had a lot of bad calls in that game, not just one, we had a lot of bad calls in that game. And I said he's biased, there's an apparent conflict of interest."
Asked if he was prepared to keep pushing his message even if that cost him his career, he said: "Yes, absolutely."
"Should that happen, then it happens. But the whole idea is that we don't treat the next generation to treat another person like shit."
Fuimaono-Sapolu denied his message had been lost because he'd used over-the-top language like "kiss my bum".
"When you are treated like crap, when you are treated like shit, then something like that is nothing, you know. If you look at the substance of all the other tweets, then why can't I just have a little crack like that?"
He also defended a reference to the Holocaust in previous tweets.
"When you get apartheid, when you get the Holocaust, when you get slavery, you have a group of people treating another group of people like crap, a group of people thinking they're more superior and they can do whatever they want to another group of people.
"Now obviously in this instance there wasn't a culling of six million Samoans or six million Jews - sorry, six million rugby players - but essentially the root of that evil was 'I am allowed to treat this person like shit.' So there's a parallel there, albeit a very small one."
- Herald Online & APNZ