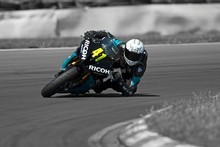 One of New Zealand's most recognised names in motorcycle racing, and a two-time world champion to boot, has suggested there might be something about 17-year-old racer Jaden Hassan that could take him all the way.
Graeme Crosby thinks Hassan may have the goods and through his contacts has arranged a ride at the final round of the MFJ Japanese road racing championship at Suzuka, on October 30.
Hassan will be piloting a Suzuki GSXR600 for the Yoshimura R&D Team on the 5.8km circuit where the annual Suzuka 8-Hour Race is held.
Hassan's chance to showcase his talents came through informal discussions Crosby had with Yoshimura Japan's president Fujio Yoshimura, which led to the youngster getting a hit-out in the 600cc Super-Sport class, a round of the national Japanese championship.
Crosby has maintained a close relationship with Yoshimura over the years after winning his two world titles on a Yoshimura Suzuki in the early 1980s. Not prone to recommending riders on a regular basis, Crosby nevertheless felt comfortable enough to recommend Hassan to his long-term friend Yoshimura, as he felt the Kiwi rider had the attitude and aptitude to do well: "There were basically three things that made me take notice of Jaden," said Crosby.
"He's serious about what he wants to do, he's got vision of where he wants to go in his own mind, which is good, and I think he's got quite a lot of ability.
"It's going to be difficult to see if he can cut the mustard without giving him an opportunity to do that. This opportunity [to race in Japan] is something not many people get.
"According to the people I've spoken to, and from listening to him, he thinks technically and understands the mechanics of how a bike works and has a mathematical ability."
Racing any form of vehicle whether it be two-wheel or four, off-road or on-road, is all about understanding how the thing works mechanically, physically and mathematically. Gone are the days of just throwing your leg over the seat and giving it heaps on the throttle.
"Now, with the level of technology available, you have to understand the cause and effects of what happens when you do things on the bike and the electronic componentry involved in modern-day racing.
"He's got the ability to deal with the complexities of modern-day racing motorcycles."
Hassan's had a pretty impressive start to his motorcycle racing career, starting on a Yamaha TZ125cc Grand Prix bike in 2008 and 2009 before moving to a Yamaha R6 600cc Super Stock more recently.
Hassan was the youngest rider to win the Actrix winter series in 2008 at just 14 and the following year was the youngest rider to finish on the podium in a national series and went on to finish third in the championship.
Injury halted his progress last year but this season, having moved up to Super Stock, he finished second, on a countback, in the title race.
"It's going to be great to go up to Japan and race. The bike isn't going to be too different to the one I've been riding here," said Hassan. "A bike's a bike and a track's a track sort of thing. But the team will be different and the language is another thing as well.
"The competition is going to be pretty high quality in their national championship, up against some world-class riders. I'm looking forward to the challenge of it and I'll do my best and see what happens.
"A few months ago I had no idea that I would soon be in Japan not only testing but racing a Suzuki GSXR600 Super-Sport. It's an opportunity not too many riders get and I want to make the most of it. I have studied the track, all six kilometres of it.
"I have studied who is going to be my competition plus I have bought a Japanese phrase book to accompany me, so let's hope my homework pays off," said Hassan.
On the back of competing at the last round of the series, Hassan is also getting the opportunity to ride a Yoshimura Suzuki GSXR1000 World Superbike. Japanese motorcycle magazine Riding Sport has hired the Suzuka circuit on the Monday following his 600cc race and will do a feature article on both the Yoshimura Suzuki Superbike and Hassan.
"I'm pretty tall [195cm] so trying to get on a MotoGP bike would a bit hard unless they cut the rear seat back a lot, so World Superbikes would be a better way to go," said Hassan.
"The added bonus to all this is that he's a pretty marketable kid," said Crosby. "He's not stupid. He looks all right, he dresses all right and has all the right attributes.
"To have a foreign rider up there, and not just in Japan, can give a company a huge lift. They have a big market not only in Japan and Asia but in Europe as well. Europe is really hard to get into and very expensive to run a team out of Japan.
"Fujio is looking to the emerging Asian market including Malaysia, Indonesia and all that area. If he's [Hassan] any good Fujio can place him with either his own team or within maybe a Philippine Suzuki team that run his bikes. It's just a good opportunity and I can see a lots of directions Jaden can go," said Crosby.
We can only wait and see how Hassan goes up against some pretty rapid locals in Japan. Be assured there are no mugs racing in the Japanese championship so Hassan will have his work cut out.
By Eric Thompson