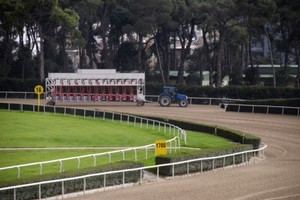 The breakthrough came when Oliver Bozanic unleashed a shot from long range. Auckland City gave themselves the perfect lead-in to the new season with a stunning come-from-behind 3-1 win over Central Coast Mariners at the Croatian Cultural Club last night.
The loss was a body blow for Mariners coach Graham Arnold and his team who were looking to continue their unbeaten run through 14 pre-season matches ahead of the A-League, which kicks off in less than 10 days.
From the outset both teams showed they had come to play.
The ball did much of the early work even if much of the play was between the respective penalty areas.
The ever-increasing Spanish influence in the City ranks became evident with the inclusion of Andreu in their starting line-up.
Signed by the club just hours before kick-off after a week's trial, the 28-year-old quickly settled into a central midfield role, providing a canny link between defence and attack.
With almost his first touch Andreu provided the link in getting the ball through to Manel Exposito who, inside three minutes, had the chance to stun the visitors only to be denied by a desperate but well-timed tackle.
All Whites midfielder Michael McGlinchey, playing on the right for the Mariners, had a keen battle with City left back Ian Hogg, while the visiting strike force led by Matt Simon were well-contained by City's central defensive pairing of captain Ivan Vicelich and Angel Berlanga.
After 30 minutes without a goal, the breakthrough came when Oliver Bozanic unleashed a shot from long range which caught unsighted City goalkeeper Jacob Spoonley unawares as he failed to get down to smother.
The home side hit back quickly, breaking on the left to send Hogg into the penalty area.
In racing back to clear, Brad Porter was adjudged by referee Chris Kerr to have fouled Hogg. Exposito thumped the penalty home.
Exposito had a hand in the third goal of the half, providing a deft ball to Alex Feneridis who in turn found the goal with a cool effort with virtually the last kick of the half.
That was repeated in the second half when substitute Emiliano Tade scored a couple of minutes from time to complete a memorable night.