The hosts look formidable, but their toughest challenge will come from the old foe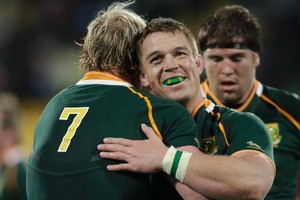 Captain John Smit and Co. gave a hint of what remains in their arsenal in their brutal dispatching of Fiji in Wellington. Photo / Mark Mitchell
Increasingly, there looks to be only one team capable of stopping the All Blacks' march on the Rugby World Cup: South Africa.
Three-quarters of the way through the pool stage of the 2011 tournament, only two teams stand out, the All Blacks and the Springboks. It was ever thus in world rugby's pecking order.
Of course, this is not to say that no other side could rise, Phoenix-like, from the ashes of previous games. Every match England play, for example, they get better. But they may need the four years that will pass before they host the event in 2015 to become the finished product. Sorting out all their failings in just four weeks would surely require a conjuring trick.
New Zealand's powerful 37-17 demolition of the weakened French in Auckland on Saturday night was a compelling justification for their status as favourites to win their first World Cup since 1987. They smashed the French in the first half, eventually triumphing by five tries to two.
Oh yes, these All Blacks add a large dollop of dash and elan to their heavyweight efforts up front. They are, in truth, a far more all-round team than the South Africans.
Yet the Springboks are the only team who have so far given a clear indication that they could match the New Zealanders. Their brutally clinical dispatching of Fiji and Namibia gave a hint of what still remains in their arsenal.
True, they stuttered and were dead lucky to beat Wales. But it was a first match and they have played convincingly since. They need to reproduce that form against Samoa in Auckland on Friday night.
South Africa stand out because they are the one side that contains the physical might to force the All Blacks on to the back foot. And as we saw again from the New Zealanders on Saturday night, if they get on to the front foot, they maximise the opportunity to score with a ruthless, clinical efficiency.
France started the game with a second-string forward pack and a halfback, Morgan Parra, at outside half. The wily New Zealanders duly subjected him to a severe defensive test and they profited handsomely from the exercise.
At times, the French defence was a joke, guilty of powder-puff tackling. Israel Dagg's first try, from a Daniel Carter break, was easier than you'd find in an All Black training session.
But the All Blacks are laying down a real marker at this World Cup. The curve on their form graph is irrevocably upward. They mix the ability to play the bash-bosh game up front with subtlety, clever decision-making and neat stepping and running behind the scrum.
If they can win ball on the front foot, they will trouble any defence in the world. Thus, it will probably be only the opponent who can force them to take a step backward up front who will have any serious chance of stopping them.
That side has to be South Africa. At their best, the Springboks have the forwards to hammer any opposition pack. They have the big, powerful runners around the fringes to ask questions of the New Zealand defence. And they have huge, strong men in midfield able to smash down runners like Ma'a Nonu and Conrad Smith on the gain line. So far in this tournament, Nonu has been rampant, running through or around just about every opponent in sight. Someone has to stop him and a defence of steel on the gain line is the only way.
Whatever vagaries may yet further light up the tournament, it increasingly appears South Africa will meet New Zealand in the semifinal. Increasingly, too, it looks likely that whoever wins that contest will become World Champions.