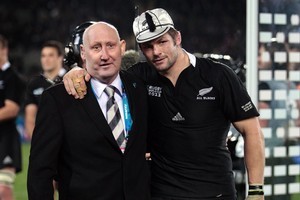 It was a special occasion made even more so by the presence of the man credited with bringing the Rugby World Cup to New Zealand.
Former NZRU chairman and ex-All Black Jock Hobbs, who is battling leukaemia, made a rare public appearance to present his old friend Richie McCaw with his 100th All Black test cap on Saturday.
McCaw, who had just led his All Black side to a 37-17 triumph over France, was clearly moved by Hobbs' gesture.
Afterwards, he said he had a "huge amount of respect" for his mate. "He's been through a rough time, and to have him there today was a special thing."
In 2005, Hobbs was central to NZ's bid to host the cup, travelling to the International Rugby Board headquarters in Dublin with rugby ambassadors Tana Umaga and Colin Meads and the Prime Minister at the time, Helen Clark.
Hobbs had planned to keep a low profile during the cup so the focus could stay on present members of the tournament's administration.
But the enormity of McCaw's achievement was evidently something he felt needed to be marked.
Hobbs led the Rugby Union from 2002, and became chairman of the World Cup's organising body, Rugby New Zealand 2011, soon after New Zealand won hosting rights.
But he stepped down from both roles last year because he needed six months of chemotherapy for the leukaemia, which was diagnosed more than four years before.
Hobbs played 21 tests between 1983 and 1986, four as captain. Complications from concussion forced him to retire from playing.