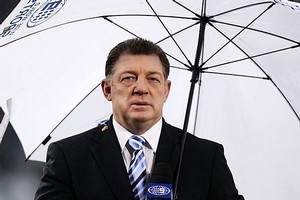 Penrith general manager Phil Gould heaped praise on Warriors coach Ivan Cleary and believes his impending arrival at the Panthers will be a huge boost to the NRL club.
Cleary guided the Warriors to next week's grand final with a shock 20-12 win over Melbourne on Saturday, which sets up a meeting with Manly in what will be his last game with the club before joining Penrith next season.
Gould controversially overlooked caretaker coach Steve Georgallis for the role in favour of Cleary in July and the former NSW supremo's decision appears vindicated.
"I was always confident we had the right bloke, he's done exceptionally well and it is a real boon for the Panthers to have a grand final, and potentially a grand final-winning coach with us next year and we are all very excited," Gould told AAP.
Gould believes the development of Warriors young guns Shaun Johnson and Kevin Locke is largely down to Cleary and expects him to play a similar role with Penrith's youth products.
"He is a great development coach, he went to the club when they were in a difficult position and he's developed a system over there," Gould said.
"I like the way he brings young players on, this Warriors first grade team is a very young side and he's given them an opportunity and now they feel comfortable in the top grade and that is what we need at Penrith.
"We're at our best at Penrith when we develop players from our local juniors and that is what he will be here to do."
The two-time premiership-winning coach also believes the Warriors can go all the way and win a first grand final after stunning the minor premiers at AAMI Park.
"I think the Warriors are getting better, they were better last night than they were against the Tigers the week before," Gould said.
"Beating the Tigers gave them confidence and this win against the Storm will too.
"They're going to be underdogs, they like being underdogs, there's no pressure on them at the moment and they are a young side enjoying their football.
"The coach is a very laidback character and that will help and all the pressure will be on Manly as they are the favourites."
- AAP