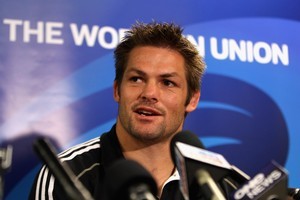 So a few weeks ago I ran a pulse check on the nation to see if the All Blacks could defy the odds and win the Rugby World Cup.
On the eve of their biggest game of pool A against bogey side France I decided to find out the feelings of the people. A strong win against the side that defeated the All Blacks in the quarter-finals of the 2007 Rugby World Cup may galvanise the nation, offering the belief that finally the men in black can lift the Webb Ellis Cup after 24 years of hurt.
I decided to quiz some of my student hosts in Dunedin to get the low-down on this grudge match:
Shaun Ferguson- "I think we can beat the French convincingly."
"I think that we have had a good run in our first two games, even though Japan and Tonga aren't the best sides, we won convincingly and confidence will be high.
We gave all the squad a run-out over the last two games and that's good to get the winning feeling for the whole squad.'
When pushed on a score, Shaun went for the All Blacks: 31-18
"I think that's a big enough margin to show everyone how good we are."
Dimitar Trifunovski- "I want a win by a margin 15 + points - that's all."
"I have some money on a couple of results at the Rugby World Cup and if it comes off tonight, I will be in line for a big windfall."
Dimitar felt Richie McCaw will be the difference. 'He's going to be the first All Black player to reach 100 caps tonight, he's done it all on a rugby field - his experience will be crucial for us against the French.'
When it came to a score, Dimitar just wanted the 15 points margin. 'I don't want to jinx it by putting an exact score to the game!'
Lloyd Campton - "It's a tight match to call but the All Blacks will just shade it"
Auckland-born Lloyd thinks the All Blacks will do just enough tonight for the win. "We are strong at Eden Park - the crowd will be behind the boys 110%."
"I know the French won both group games but the Japanese really fought back against them- could be a sign of weakness considering we destroyed Japan.' When pushed on a result Lloyd went for a low scoring match up.
"I think it will be down to a couple of tries and penalties for this one."
He called the game 17-10 to the All Blacks.
So the students of Dunedin have called an All Blacks win tonight. Whatever happens tonight a victory by any margin will go some way to banish the ghosts of that night against the French at Millennium Stadium.
Hopefully after the win the All Blacks and a nation again united - a place in the final surely awaits.
Follow Mitch's Rugby World Cup adventures in New Zealand on Twitter: @NotSweetChariot