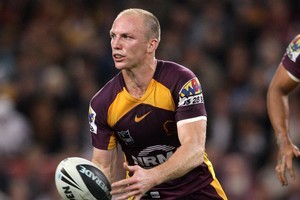 The doctors who performed surgery on Brisbane NRL captain Darren Lockyer's fractured cheekbone on Sunday morning are pleased with the results and say there's minimal chance of further injury.
Broncos coach Anthony Griffin as well as surgeons say a decision on whether the retiring skipper lines up against Manly in Friday night's preliminary final will be left entirely to Lockyer himself.
Lockyer had three titanium plates inserted in his face after collecting an accidental knee from teammate Gerard Beale during Saturday night's thrilling 13-12 golden-point win over St George Illawarra.
The Queensland and Test champion, who will retire at season's end, played the final 13 minutes of the match through the pain, to miraculously kick the winning field goal.
Brisbane were playing coy with the media after fulltime on Saturday about the extent of the damage but, on Sunday morning, Lockyer was booked in at Brisbane's Wesley Private Hospital and went under the knife at 8.30am(AEST).
Specialist facial surgeon John Arvier performed the procedure and was assisted by prominent orthopedic specialist Peter Myers.
Addressing the media on Sunday, Griffin said early results indicated Lockyer's cheek structure was very stable and, if he played on Friday, the risk of further injury would be minimal.
The issue will be whether the swelling and pain eases off enough for him to cope.
"He had surgery at 8.30 this morning and had three metal plates inserted in his cheekbone. The doctor was really happy with the way the surgery went and now it's just a matter of whether he can handle the pain and the swelling as to whether he plays this weekend,"' said Griffin.
"He (surgeon) said the structure of his cheekbone is as solid as it can be and we'll have to see how he recovers during the week."
Asked if he were a betting man, what would be the odds on Lockyer being fit to play, Griffin said: "I think he's a chance.''
Facial specialists have a special headgear mask to protect the cheekbone which they will offer to the Broncos skipper to use.
Griffin said Lockyer will be named in the team and will have the final say.
However, if he doesn't play, either Corey Norman or Ben Hunt will play five-eighth.
Griffin said he may visit Lockyer on Sunday but, at this stage, won't ask him about what he thinks his chances are of playing on Friday.
- AAP