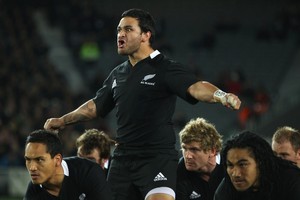 Three young rugby fans got the thumbs up from All Blacks halfback Piri Weepu over their impromptu haka during a packed autograph signing in Hamilton this morning.
"It was pretty cool,'' Weepu said of the youngsters who turned on the show for their favourite rugby star.
"I saw them do it outside before. It was impressive.''
The father-of-two, who brought along his 13-month-old daughter Keira, offered some advice to wannabe All Blacks.
"If it's what you want to be you've just got to make sure you chase the dream.''
Weepu, fullback Israel Dagg and first five Colin Slade arrived at the signing at The Base shopping mall to much fanfare as more than a 1000 people queued to meet and take photographs with the men in black.
Eleven-year-old Justice Hall led the haka with his older brother Sammo Hall, 12 and friend Pheonix Ngauma, 10, to the delight of the crowd.
"We were just trying to go hard and hopefully they would notice us,'' Justice said.
"We've been practising. We wanted to see Piri.''
It was the second signing for Hamilton fans ahead of the city's first Rugby World Cup match tomorrow night when the All Blacks meet Japan at Waikato Stadium.
Wales and Samoa will also clash at the stadium on Sunday afternoon.