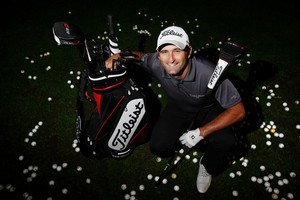 North Harbour professional Michael Hendry has never lacked confidence, and the three-time winner on the Charles Tour sounded a warning to his rivals ahead of the Tauranga Open which begins tomorrow.
"I am feeling really good. I am hitting it better than I ever have before in tournament golf in my life," said the 31-year-old, who finished runner-up to Ben Campbell in 2010.
"I go into this week with a few changes but I am feeling confident in my game. With the way I am hitting it, I know I will get opportunities to score well."
Hendry headlines the field for the second event. He has a good record on the tour since his breakthrough at the 2009 Tauranga Open when he defeated Australian Peter Fowler.
Another to watch is Gareth Paddison, who combined with Hendry to win the World Cup of Golf qualifier in Malaysia. The pair are among the most experienced players in the 72-hole stroke play event.
The field includes 2003 New Zealand Open champion Mahal Pearce and Muriwai Open runner-up Hamish Robertson seeking their first win on the Charles Tour and 2008 champion Mark Purser looking for a turnaround in form. Perennial contenders Jared Pender, Joshua Carmichael and Brenden Stuart are also teeing it up for the $40,000 purse.
Hendry expected the shift from May to September would present a challenge.
"It should play a lot tougher. The conditions in May are really fine and warm with a lot of run. At this time of year the course will play longer with wetter fairways and in the latter rounds I expect the greens will be bumpier just because the ground underneath will be wetter.
"The scoring probably won't be as low as it was in the past but I am sure a good number will still win it."
The women's field boasts the likes of Caroline Bon and former Long Drive World Champion Phillis Meti vying for the professional title with New Zealand representative Emily Perry and Larissa Eruera playing for the amateur honours.
- APNZ