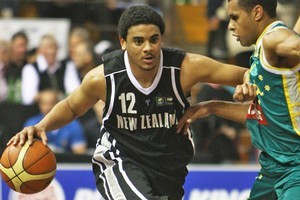 Corey Webster's dismissal from the Tall Blacks tour of Australia could have far-reaching consequences for the point guard after his positive drugs test last year.
Webster, who plays for the Breakers in the NBL, returned to New Zealand today following a breach of contract and it comes after he tested positive to drugs - believed to be cannabis - in a random test in June 2010.
Basketball New Zealand chief executive Tim Hamilton said today he could not reveal the details of Webster's contract breach.
"Obviously it's a huge disruption for us as a group, as a team and as an organisation,'' he said. "It's upsetting for everyone and obviously the timing's not great as it comes before a qualification series ahead of the London Olympics but ultimately that was the decision that we made.''
Breakers general manager Richard Clarke said today he was still to receive details of the breach from Webster or Basketball New Zealand.
"We don't have any official notification of what's involved so it would be premature to comment until then,'' he said.
The Tall Blacks begin their three-test Oceania qualifying series against Australia in Melbourne tonight.
Hawkes Bay guard Jarrod Kenny has already arrived in Melbourne to take Webster's place.
The series opener tips off at 9.30pm.
- APNZ