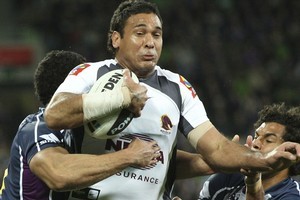 Broncos dangerman Justin Hodges has declared himself 100 per cent fit ahead of Saturday night's NRL finals clash with the New Zealand Warriors at Suncorp Stadium.
But the Brisbane centre said while he had recovered from a hamstring strain he faced ongoing back-related problems.
"Now and even next year when my back gets tight I will have to sit out a week,'' Hodges said.
"It happens around the eight-game mark, it gets tight.
"I will have to see how I go next year.''
Hodges said the hamstring strain he is returning from was back related.
His return to the side after missing two weeks is a shot in the arm for the Broncos who are reeling from Sam Thaiday's two week suspension for a dangerous throw.
"It was just a small strain, I can't wait for Saturday night,'' Hodges said.
- AAP