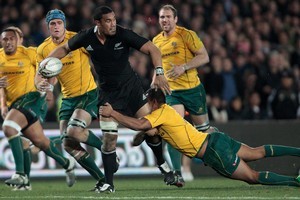 An injured Kieran Read will sit out the opening match against Tonga on Friday.
Jerome Kaino has been entrenched in the All Blacks for some time but, in a selection quirk, is on the cusp of his first World Cup.
The blindside flanker first tasted work with the side in 2004, but injuries and a congested loose forward group meant he missed the last global tournament in France.
However the American Samoan-born Kaino, who became a father again last week, is now poised to take a leading role when the All Blacks start their World Cup campaign on his home Eden Park patch on Friday against Tonga.
"It would be special playing in any World Cup. I'd love to run out there in the first game and get the feel of what all this World Cup hype and everything is all about," he said.
That side is revealed tomorrow with Kaino, captain Richie McCaw and Victor Vito likely to be the loose forward combination with Kieran Read and Adam Thomson on the injured list.
Kaino has already noticed rising support for Tonga around the city and is ready to confront a number of players who have played provincial rugby or even higher in New Zealand.
Former Hurricanes, Blues and Highlanders loose forward Finau Maka captains the side where half his comrades have New Zealand rugby experience while the coach is his brother and former All Black looseforward Isitolo Maka.
Many households in Auckland would have divided loyalties during the tournament, said Kaino, with his a good example of mixed Samoan and All Black support.
Some matches would seem like home games for Pacific Island nations and that would bring some extra vibrancy from the fans.
Tonga would bring a real physical edge on Friday and had shown their ability in this year's Pacific Nations Cup. They would not hold back and that was the sort of challenge the All Blacks needed, he said.
Maka was one of the Tongan stars at the last tournament and should bring some bruising sting with former Blues loosies Viliame Ma'afu and Samiu Vahafolau.
The All Blacks and Tonga met in the opening game of the 1999 World Cup and, while New Zealand won 45-9, they were rattled by their rivals' physical onslaught.
The All Blacks had a number of areas in their play they needed to remedy after successive losses to the Springboks in Port Elizabeth and the Wallabies in Brisbane. The atmosphere had been building all the time, there was a greater emphasis than in a normal test week and Kaino felt ready and rested for the challenge