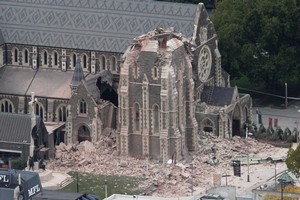 Every Monday throughout the Rugby World Cup we will bring you the heroes and villains of the previous week's action. As an entree to the tournament, we have selected those who have stood out for the right and wrong reasons in the lead-up to the World Cup.
GOOD BUGGERS
1. The people of Christchurch
Beaten up by Mother Nature, the All Blacks need to look no further for inspiration than the resilient folk of Canterbury.
No province could deserve a World Cup bonanza more than Canterbury - but as soon as the earth rumbled and split under them on February 22, it was obvious they were going to have to travel to be part of it.
And that's all its two representative teams have done this year: the Crusaders travelling 100,000km to make the Super 15 final and the red-and-blacks winning a fourth successive provincial championship with all games away from their HQ.
2. Martin Snedden
His primary role this year was to sell tickets, which he seems to have done effectively, with budgets close to being reached without a ball-carrier tackled in anger yet.
It is too early to say with any certainty whether the tournament will be a triumph, but if there's one thing Snedden seems to have strong-armed New Zealand's rugby public into believing, it is that the success or failure of the 2011 Rugby World Cup will not be determined by the performance of the All Blacks.
"What's more important to us: the All Blacks winning the trophy, or us successfully hosting the tournament?"
We've heard it so often it's now morphed into a rhetorical question. Of course we'd rather host a successful tournament, Martin, why do you ask? Every four years we get the opportunity to win one of these things, we'll never get the chance to host one of these again.
There seems to be a growing sense that we need to see the big picture, to be welcoming hosts, to be converts to the beauty of a well-struck drop goal.
All well and good, but let's just wait and see what happens if we're bundled out in the quarters again.
3. Malcolm Farry and Carisbrook Stadium Charitable Trust friends
When Jock Hobbs and co allowed themselves a little fist-pump on winning the hosting rights way back in 2005, hands up who thought Dunedin would provide the showpiece tournament stadium.
Forsyth Barr Stadium, which will be known as Stadium Otago for the duration of the tournament, is a fantastic, vibrant addition to the city, the exact opposite of the decrepit, soulless Carisbrook.
BAD BUGGERS
1.Eden Park Trust Board
Proof if it was needed that a quarter of a billion dollars does not get you much these days.
Scour the world for ringing endorsements of Eden Park and about the best you'll find, unless it is from Snedden or somebody equally compromised, is that it is adequate. It's a bit like paying $150,000 for a Hyundai Lantra, which, if you're trying to get from A to B, is also adequate.
Others have been less kind and you can see why.
Yes, it's nice that entrance to the ground is logical and, you'd assume, swifter. It makes sense that each side of the ground is connected by a concourse. What hasn't changed, however, is the fact it is an unco-ordinated mish-mash of stands on a mis-shapen ground in the middle of the burbs.
It leaves you slack-jawed just thinking that something so expensive could look so cheap.
2. Adidas and Telecom
We get it. Rugby is a professional sport and with that you get the mainly good and the occasional bad.
For the sport to survive and thrive it needs big companies with deep pockets to want to be associated with the game.
In the past month or so, however, we've seen the commercialism of the national sport taken to its apotheosis.
Adidas replica jerseys sold here for $220 when they could be bought for nearly half the price offshore. Never were watchers of rugby so acutely aware they'd stopped being fans and had become consumers, measured not by their passion but by spend units.
Then there was Telecom's tawdry attempt to make its presence felt during the World Cup. A pink fist, rubber abstinence rings - honestly, who thought that up?
Without being alarmist, sometimes it really does feel like somebody's stealing our game.
3. Selectors
They never get it right. No matter where they're from.
No Hosea Gear - you're having a laugh.
No Sebastien Chabal - have the French lost all sense of theatre?
No Matt Giteau - must be a personality clash.
No Riki Flutey - the to-and-froms have got no idea.
Bloody selectors!