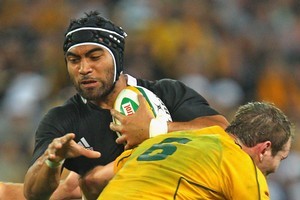 New All Black No 8 Victor Vito has the chance to make some serious statements in the next few weeks.
He wants to have his card marked as a test player now and for the future if Kieran Read's injury recovery slows.
"There is always a responsibility when you put on this jersey, but I don't just want to be a caretaker. I want to add to it," Vito said.
It's a serious leap in fortune and circumstances for the 24-year-old who was outside the World Cup frame a few weeks ago. Or so we thought.
There were no signs from the All Black selectors he was on their tournament radar until he was called to travel to South Africa when captain Richie McCaw and Read were rested.
Then came stage one of the rise from the shadows. After just 11 minutes off the bench against the Boks, Vito was picked instead of Liam Messam for the last looseforward role in the All Black squad.
Now he's heading towards a start at No 8 when the All Blacks open the seventh global tournament at Eden Park on Friday against Tonga.
A disconcerting ankle injury for Read promoted Vito into much of the Brisbane test against the Wallabies where he showed the starch and promise he's threatened to bring to the international football arena.
During Read's injury downtime, Vito will be plugging into the No 8's knowledge of the role and how he attacks those duties.
"He has a wealth of knowledge and he's been the form No 8 for quite a while now - one of the best in the world - and I just have to tag on to him."
Vito said he wanted to emulate some of the physical impact and lineout work Read produced regularly and he aimed to nail down the role. There was added responsibility, Vito acknowledged, but that was expected from anyone in the black jersey.
Vito said the last few weeks had been great, but a bit of a blur. The extent of the tournament and his involvement hit home when the All Blacks received their official welcome at the weekend.
Seasoned hooker Andrew Hore noted the excitement building for what would be a special tournament at home. He also knew it would be tough for everyone if the All Blacks didn't complete their mission.
"If we don't get the result we're after, it might be pretty tough living round here But if we get things right in seven weeks, it'll be quite good living in your own country again," he said.
The Hurricanes discard said it was important for the squad to use any chances they had to get away from rugby and freshen up for their shot at the title - it was their aim, and the hope of their New Zealand supporters, to win it.
Seven weeks without any enjoyment would be a waste, he said.