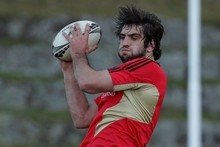 All Blacks lock Sam Whitelock will be called on to any provide loose forward cover for the early stages of New Zealand's Rugby World Cup 2011 campaign.
Kieran Read and Adam Thomson will miss the start of the tournament as they recover from injuries.
Read suffered a high ankle sprain and Thomson damaged the inside of his elbow and team doctor Deb Robinson said today both will miss the tournament's opening match against Tonga on September 9.
"Kieran has torn the ligament between the tibia and fibula at the front of his left ankle and while it's still early days in his recovery, with aggressive rehabilitation we are aiming to have him available to play near the end of the round robin.
"Adam's MRI scan shows some swelling around the inside of his elbow which should settle quickly. He also has some deep bruising to his upper arm and while it's difficult to know how long that will take to settle, we are hoping he will be ready for selection for the All Blacks' second round robin match against Japan,'' said Robinson.
Hansen said the players had feared being invalided out of the tournament prior to their scans and there was a degree of relief when the result came through.
"It's obviously disappointing to lose two quality players before the tournament starts but they're not out of contention for the latter part of the tournament, so we've got enough cover to keep them there and that's the key thing," he said.
"The worst-case scenario would be to be out of the tournament altogether. Both of them were dreading the scan and the result and so for us and for them, this is more positive in that they will get to play in the tournament at some point. So now the focus is get on with the rehab and get back as quickly as possible."
Hansen says Jerome Kaino, Richie McCaw and Victor Vito are all fit and if one of them goes down, Whitelock will play as a flanker.
"(Jerome ) Kaino will come back in obviously and with (Richie ) McCaw and Victor (Vito) all being fit, if one of them goes down in a game or we want to make a substitution, then Sam (Whitelock) would go there."
The All Blacks squad will assemble in Auckland on Friday.
- NEWSTALK ZB/NZPA