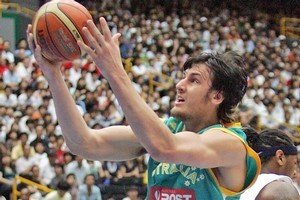 Star Milwaukee Bucks centre Andrew Bogut is considering following fellow NBA player Patty Mills to the Australian National Basketball League.
But the New Zealand Breakers only have a "remote chance" of signing the seven-foot defensive anchor.
Mills, a point guard for the Portland Trail Blazers, yesterday signed to play with the Melbourne Tigers amid an ongoing labour dispute which has seen NBA owners lock out their players.
Bogut, 26, this morning announced he was also considering a move home to Australia for the 2011-12 season.
He said the main obstacle to his signing with NBL was finding a club that could cover his insurance premiums, which went up after he suffered a gruesome right elbow injury in 2010.
"If the lockout is where it is now, Europe and the NBL are viable options for me," he said.
''Australia is very appealing because I get more time with my family.
But it's a big step up with the insurance.
''I won't go asking an NBL club for big money, the main thing is the insurance.''
Signing Mills means Bogut's home Melbourne club does not have the ability to sign him under the NBL's rules.
Bogut said he would be talking to other teams. "Patty has stolen my spot."
New Zealand Breakers general manager Richard Clarke said coach Andrej Lemanis had spoken to Bogut about the possibility of signing for the Breakers during a recent trip to Australia.
He was likely to sign with an Australian club if insurance issues could be worked out, Mr Clarke said.
"I think he wouldn't consider coming to us.... but there's always a remote chance."
Mr Clarke said contracting Bogut would be good for the NBL.
Breakers players would welcome lining up against him, he said.
"Getting a player like that - it's good for everyone. Still it's like anyone else. He's only as good as the rest of the team."
Bogut averaged 12.8 points, 11.1 rebounds and 2.6 blocks per game in his comeback from injury in the 2010/11 NBA season.
He was the first overall draft pick in 2005.
- HERALD ONLINE