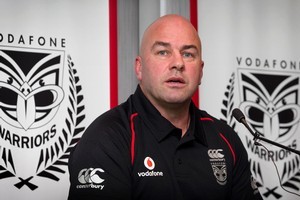 It will be business as usual at the Warriors next season, with coach-in-waiting Brian McClennan opting to keep the club's backroom staff intact.
Tony Iro will remain assistant coach of the NRL side, while John Ackland continues as head coach of the junior Warriors. High-performance manager Craig Walker has also agreed to stay on. A Cleary appointee at the Warriors after previously working with him at the Roosters, Walker was a key recruitment target of Cleary's as he looks to overhaul Penrith next season.
Iro and Ackland were contenders for the head-coach post but it appears there will be little, if any, fallout from the pair missing out to McClennan.
"There is no tension whatsoever," McClennan said. "There was never going to be. Between the three of us no one really cares about who gets credit. It's always about the players and we'll all do our best we can for the players at the club."
Although still keen to land an NRL head-coaching job in future, Ackland is understood to be happy for his long-time friend McClennan.
"Bluey is a true rugby league man who always has the game interests at heart," he said. "Our families and our association go a long way back. It'll be good to work with him again."
Iro was being groomed for the top job under Cleary but he remains comfortable that his time will come.
"I'm not in any hurry. I had two years left with Ivan anyway expecting to be an assistant. I know I've got plenty to learn and I'm certainly looking forward to learning some more off Bluey," Iro said.
With the club performing well under Cleary for the majority of his six seasons in charge, McClennan has opted for a don't try to fix what isn't broken philosophy.
"All three [coaches] are doing an excellent job in their current roles and by keeping it the same it gives everyone consistency throughout the club in critical areas. I'm really, really pleased," he said.
The highly rated Walker's retention is a minor coup for McClennan, with early reports suggesting he was a near certainty to join Cleary and Phil Gould's Penrith revolution.
"I didn't know much about him but I have spoken to a lot of people about him and everyone has had really good things to say," he said.