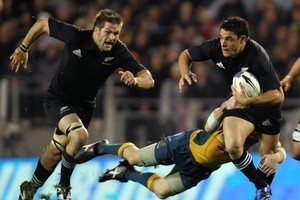 Daniel Carter has accomplished more than most All Blacks in his 82 tests.
His factfile is full of records and outstanding performances but one distinction has eluded him. He has never captained the All Blacks.
Seven men have led the national team since Carter started his career as a 21-year-old second five-eighths against Wales.
His Crusaders skipper, Reuben Thorne, led him out for his test debut in Hamilton, and since then Tana Umaga, Richie McCaw, Jerry Collins, Rodney So'oialo, Keven Mealamu and Mils Muliaina have completed the same duties.
Carter is the vice-captain of the side this season, a role which was confirmed several months ago when he signed on again for four more years with the NZ Rugby Union.
Last week, when McCaw was absent from the 5-18 loss in Port Elizabeth, Carter and other senior All Blacks were also on leave, and Mealamu took charge once more.
McCaw's rest times have usually coincided with decisions to spell Carter as well.
The All Black captain will play his 98th international on Saturday against the Wallabies at Suncorp Stadium and health permitting, is being primed to start the bulk of the World Cup tests. If so, he should become the first All Black to reach 100 test caps when the team play Japan in the second round at Hamilton on September 16.
A fit McCaw will then play the pivotal pool game against France and probably want to start the last match against Canada to keep in trim for the playoff section of the tournament.
So curiosity about when Carter might lead the All Blacks into a test may have to remain until next season.
McCaw and Carter have started 59 tests together and lost on just six occasions - three against the Springboks, two against the Wallabies and the shock quarter-final defeat against France in the 2007 World Cup.
The one window when Carter might have taken charge of the All Blacks came in 2009 when McCaw damaged his knee.
However, Carter was dealing with his own serious Achilles tendon injury and the duties were transferred to Muliaina.