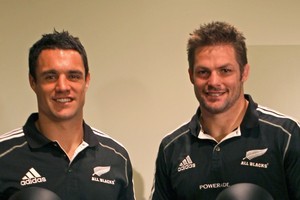 The All Blacks will embrace the pressure of playing the World Cup at home rather than see it as a burden.
The NZRU sold their pitch for hosting this year's World Cup on the concept of a stadium of four million. While not all New Zealanders will ride every pass and tackle like the most vehement fan, there's little doubt the weight of the nation is a heavy load to bear.
But captain Richie McCaw and first five-eighths Dan Carter said it wasn't something the team should fear.
"Wherever the World Cup is, it's the same sort of pressure," McCaw said. "I think it's just exciting. If you are going to choose all the places to play a World Cup, you're going to choose your home country. That's the way I look at it.
"But every other team is going to be pretty excited as well, and that's what's great about it. It's not an easy thing to win so we are going to have to do it right.
But to have your friends and family and fans to get a feel of it, too, will be pretty special."
Carter echoed those thoughts.
"The excitement of the support we have in New Zealand far exceeds the pressure and expectation," Carter said. "That's why we just love playing in New Zealand. To have something like the World Cup in our own back yard is great and I know the players can't wait for it."
There should be some confidence among players and fans alike. Not only are the All Blacks clearly the world's best side, but they also haven't been beaten at home since the 32-29 defeat to the Springboks in Hamilton in September 2009 and last weekend's loss to South Africa was only their second in the last two years.
They possess strength and depth across the squad but, as everyone knows, World Cups come down to one-off games and Graham Henry's side need to make sure they win seven in a row to triumph for the first time since 1987.
It will help that 10 players from the failed 2007 campaign will be back, along with the three coaches, and they will ensure the rest of the squad understand what the pain of defeat feels like. It's not an experience they want to endure again and, like the pressure of playing at home, it's not something they will avoid talking about.
"You know what you are in for and know what to expect," McCaw said. "A lot of us who were there last time, we have played a lot more rugby and been through a lot more experiences. That doesn't guarantee anything but, hopefully, we can do the right things at training so we can perform on Saturdays.
"Games you are expected to win, you prepare right so you perform well and get what you need out of it. For the games that will be the tough ones, you know what you need to do to get the result and the performance you are after. Having been through that, hopefully the coaches and players who have been there before will be able to make sure we get it right the week prior and then out of the field."
- APNZ