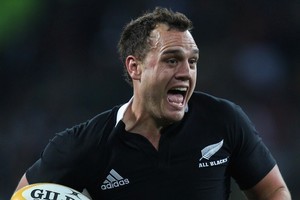 When Israel Dagg tore his right quadracep muscle off the bone in a freak incident while playing for the Crusaders in this year's Super Rugby competition, mum Hiriana decided to make a temporary move south to Christchurch during his convalescence to keep an eye on him.
She thought it necessary to ensure he didn't spend too much time on his PlayStation rather then doing dishes and cleaning up his flat.
Although the reason for her visit from Hawke's Bay may have been a little tongue in cheek, son Israel's return from such a rare and dreadful injury suffered back in early May has resulted in a world cup call-up and is testament to a fair bit of hard work.
Certainly, coach Graham Henry was impressed at the squad naming in Brisbane today.
"We are very pleased with Israel,'' he said. "What he's done has been amazing.
He had a horrendous injury which we had very little history of and the medical staff were struggling to say when he would be right. He has played 60 minutes ITM Cup football and he was probably the star of the test match in Port Elizabeth in the weekend.
"So that speaks volumes for his head. Obviously he's a bloody good athlete. How he can get himself in that state to get himself ready to play at that level in that period of time is amazing. Is he a starting winger? He may be a starting fullback.''
There will be no room for complacency for incumbent fullback Mils Muliaina now that Dagg has proven his fitness in that ITM Cup run with Hawke's Bay and more recently in the Republic.
The All Blacks selectors regard Dagg as having plenty of X-factor and he has shown a remarkable ability to score sensational tries at the highest level. Dagg's two tries in the Tri Nations against the Springboks last year were outstanding.
He scored one to win the match in Johannesburg in the dying minutes after a breakout by Ma'a Nonu and the other in Wellington after coming on as a replacement in another All Blacks victory.