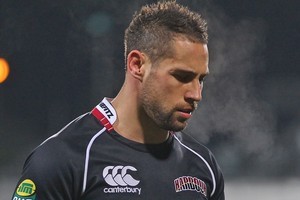 Blues and North Harbour midfielder Luke McAlister has been released from his New Zealand contracts so he can play in France, it has been announced.
McAlister will play in Harbour's round 10 ITM Cup match against Counties Manukau tomorrow, before joining French club Toulouse.
North Harbour Rugby chief executive Brett Hollister said McAlister had requested an early release due to his new French commitments.
"We've worked with the New Zealand Rugby Union to negotiate an appropriate release with Luke, including an early release fee.
"We're obviously very disappointed that he is leaving during our 2011 ITM Cup campaign - as our season was planned on the expectation Luke would play for us. The reality is he wishes to start his new contract in Toulouse this month and for us that means finishing the ITM Cup season without him," Hollister said.
NZRU general manager professional rugby Neil Sorensen said: "While this is a disappointing end to Luke's career in New Zealand, we have agreed that this is the best outcome for everyone involved and we wish him well."
- Herald Online staff