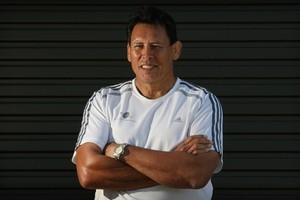 New off-field alliances have been formed among retired rugby rivals with the confirmation of TV commentary teams for the World Cup.
Maori Television, the lead free-to-air broadcaster for the series, yesterday announced its 27-member team, including the former Television New Zealand commentator Keith Quinn and a host of former All Blacks and other rugby internationals.
It mixes mid-1990s All Blacks Glen Osborne, Kees Meeuws and Norm Hewitt with former Scotland player Gavin Hastings; and former All Black Buck Shelford from the late 80s/early 90s with former Wallabies Peter Fitzsimons and Mark Ella.
There are four former World Cup team captains in the Maori TV line-up - Shelford, Hastings, Pat Lam (Samoa) and Inoke Afeaki (Tonga).
Maori TV's Cup coverage will be anchored by Te Arahi Maipi, of the league and union TV show Boil Up.
The Maori TV team will be competing on air against the experienced Sky TV team that includes Grant Nisbett, former All Black Grant Fox, cricketer Ian Smith and Tony Johnston.
A number of ex-All Blacks including Justin Marshall, Matthew Cooper, Stu Wilson, Jon Preston and Richard Turner will also front for Sky.
On TVNZ, former All Blacks Taine Randell and Jeff Wilson (former teammates of Marshall and Osborne) will join broadcasters Martin Devlin, Andrew Saville and Simon Dallow.
TV3 will have Randell's former teammates Josh Kronfeld and Andrew Mehrtens, stars of the 1995 World Cup, who will join Hamish McKay in the commentary box.
Maori TV's chief executive, Jim Mather, said the commentary team for the station and sister channel Te Reo was larger than those of other free-to-air broadcasters as it was the only free-to-air network with all 48 matches.
"We will be fronting three commentators per match, much like the other networks who will be televising the games."
Media commentator Bill Ralston said last night of the Maori TV team, "It's a fantastic commentary team, particularly when you throw in Keith Quinn."
Former All Black Andy Haden agreed, saying Maori TV had pulled together a great diversity in its team.
"That's quite a novel approach to it. Clearly they had to do something a little bit different to the others."
- Staff reporter