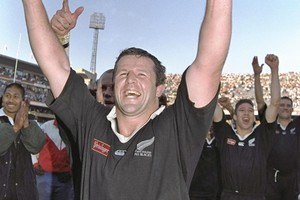 The relief and euphoria was palpable. All Black skipper Sean Fitzpatrick thumped Loftus Versfeld pitch with his fist, Robin Brooke kissed the turf and veteran teammates jumped for joy. The 1996 All Blacks had survived a Springbok onslaught to get the gorilla off their back - a series win in South Africa after nearly 70 years of trying.
Fitzpatrick vividly remembers those final few minutes of the match at Pretoria.
They had won the week before in Durban but in the second of the three-test series, the Springboks were camped on the All Blacks line pushing for a draw that would have kept the series alive.
"We felt the sheer intensity of it. We knew that by winning that first test in Durban that we had to go to Pretoria and win that game. We knew that going to Ellis Park it was probably going to be a game too far," says Fitzpatrick.
"That game in Pretoria was the most unbelievable game. The way it see-sawed."
Jeff Wilson had scored two tries, Zinzan Brooke had scored one and a drop goal, and replacement Jon Preston had kicked crucial goals but the Boks kept coming back.
"In the last two minutes we had a lineout. We went running across one side of the field to the other and I ran past Olo Brown who was heaving with his throat burning. I said 'Come on mate we've got a minute to go let's do it'," Fitzpatrick recalled.
"There was one more lineout, they got a penalty and I knew if they scored and got the kick over it would be a draw."
But the All Black forwards rallied, French referee Didier Mene called time and "The Incomparables" achieved what five previous All Black touring sides hadn't - a series win in South Africa.
Fitzpatrick says the onfield celebrations were an outlet for "the sheer emotion of it, knowing what we had achieved".
What really brought it home was an encounter with a legendary All Black fullback as he was coming off the field.
"Don Clarke was standing in the tunnel and he put his arm around me with tears running down his face. He said 'Sean thank you so much for doing something so many All Black teams had tried to do in the past'."
Memorable moments:
Brian McKechnie saves the day
When Fitzy's Incomparables cracked code
Triumphant last gasps
Playing through the pain
Shock loss put NZ side in their place
Famous Kiwis share their greatest All Black moments