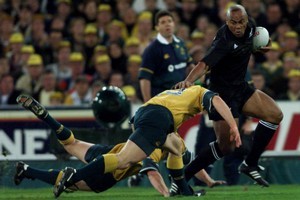 Australia's relationship with the All Blacks might be best evaluated by keeping Greg Martin and Eddie Stokes in mind.
Former Wallaby fullback Martin was the motivating force behind a Golden Oldies Wallabies and All Blacks match at Ballymore this year that raised more than $500,000 for the Christchurch earthquake appeal.
While the public response in Australia was due in large degree to a natural desire to help out however possible, there's no question the size of the reaction was in some part due to the enormous respect, and indeed awe, that is reserved here for that symbol of New Zealand drive, determination, perseverance and excellence - the All Black jersey.
Former All Black Stokes was not one of the greatest players to wear that jersey, but nonetheless was an early example for me of what sets them apart.
On the morning of a match between Queensland and New Zealand Maori in 1979, in which Stokes and I were opposing centres, the brunch orders were being taken in the Maori camp. I was told by a Maori player after the game that Eddie declined the pasta or steak or whatever else was on offer, saying he didn't need to eat as he was, "having Andrew Slack for afternoon tea".
It was then I first understood the responsibility that went with being an All Black, it was not about taking prisoners, it was about finishing the enemy off. There was a foreboding among more Wallabies than would care to admit, that any match against the All Blacks was indeed just another chance to be eaten alive. More often than not, in a scoreboard sense, we were.
The first rugby test I ever saw was an All Black-Wallaby clash at Ballymore in 1968. In the previous 13 years, Australia had won just twice against them.
With two minutes left the Wallabies led 18-14, but referee Kev Crowe, a born and bred Queenslander no less, awarded the All Blacks a penalty try after winger Alan Cardy had taken out New Zealand's Grahame Thorne without the ball. The All Blacks won 19-18.
Ambushed by angry local reporters afterwards, Crowe requested that Cardy be invited to join the impromptu inquisition.
"I asked Mr Cardy why he interfered with Thorne," recalled Crowe, "and his reply in front of the press was 'I had to stop the bastard somehow'."
In the 65 years of clashes between the two sides leading up to that match, and in the 43 since, for the Wallabies it's always been a matter of trying to stop the bastards somehow. (Often unsuccessfully, as the Wallabies have won just 40 of the 140 matches between the countries.)
Perhaps the fact the All Black team have always been New Zealand's sporting flag bearer, has made them enviably ruthless on the field, and in the amateur era particularly, there's no question that was worth a few points determined siblings
Greg Cornelsen scores one of his four tries at Eden Park in 1978. Picture (right) / Greg Bowker
George Gregan got his Wallabies a 2003 RWC semifinal win in Sydney; while Tana Umaga struck gold in a Bledisloe Cup game at Eden Park in 2005.
before any whistle blew. We admired such ruthlessness, but couldn't always match it.
Because of our geographic proximity and our relative similarities in interests and cultures, there's always been a big brother versus little brother feel about our sporting contests. In cricket we're the older bro, whereas in rugby there's no question who's the senior member of the siblings.
The little brother in gold has had the last say on some memorable occasions. George Gregan knocking the ball out of Jeff Wilson's arms in 1994 comes to mind, while a fitting farewell for John Eales was iced by Toutai Kefu in the 29-26 win over Anton Oliver's team at Stadium Australia in 2001.
However, the match that epitomises the history of All Black Wallaby contests was played in Sydney in 2000 in front of a crowd of 109,874.
It was 24-nil to the All Blacks after nine minutes, 24-all after 31 and it took a Jonah Lomu try in the 78th minute to secure a 39-35 win for New Zealand.
The result probably said it all: the All Blacks set the pace but the Wallabies won't go away.
Put simply, it's a magic rivalry.
* Andrew Slack is a former Wallaby captain and centre.
Other rivalries:
South Africa: Battle against Boks fiercest clash of all
Wales: A history of obsession
France: Fear pushes French to unexpected wins