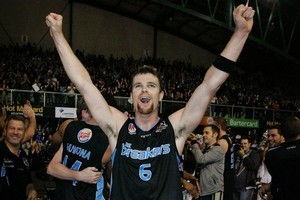 Tall Blacks shooting guard Kirk Penney has signed to play with Spanish basketball club, Baloncesto Fuenlabrada.
Sporting director Lopez Ferran said on the club's website today that Penney was a valuable acquisition.
"We were long behind him last year and try to sign him and we have done it," Ferran said.
"Penney is very valuable to us, a man who is at full maturity as a player.
"He is a great scorer and is used to playing in top level competition."Ferran said the the fact the Madrid club also played in European competition helped in Penney's recruitment while the player also relished the challenge of playing in the Spanish competition where he played for Gran Canaria in the 2003/04 season.
Penney's New Zealand Breakers club has made no announcement about the player's departure but had given the player an August 1 deadline to decide if he was taking up an overseas contract or staying on for a fifth season in the Australian league.
Penney will next week lead the Tall Blacks off for tournaments in China, Macedonia and Turkey, before the three-game Oceania Olympics qualifying series against Australia in early-September.
- NZPA