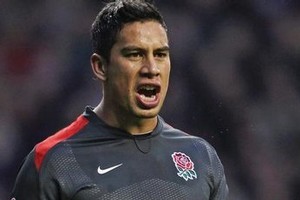 Jonah Lomu has come down heavily against England's decision to use an all black away kit at the World Cup.
Lomu told BBC Sport England's new black change strip - which will be worn for the team's game against Argentina on 10 September - was "disrespectful'' .
"For me, in some ways you are just disrespecting the legacy of past players," Lomu told BBC Sport.
"The All Blacks are synonymous with being in all black, and England the white shirt they have."
Although England will go back to white for their games against Georgia, Romania and Scotland, the black kit could return in later rounds.
The Rugby World Cup's all-time leading try scorer told the BBC he would "find it difficult to watch England in a different shirt".
"I am one of those people who was brought up on the history of rugby, watching the great players of the past who have worn the England shirt and also the All Blacks'.
"I will find it pretty weird to look across the paddock and see them run out not wearing that famous white uniform."
- HERALD ONLINE