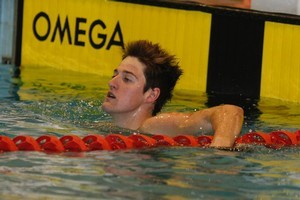 Wellington backstroker Gareth Kean smashed the New Zealand record to reach the final of the 100m backstroke at the world championships in Shanghai last night.
Kean, 19, finished third in the slower of the two semifinals, to sneak into eighth and last spot for tonight's final by the slenderest margin.
He clocked 53.69s, shaving .20s off his qualifying time from the morning heats. He pipped Australian Hayden Stoeckel for the eighth slot by just .01s.
Last night's time knocked .16s off the old national mark held by Daniel Bell, who failed to make the semifinals earlier in the day.
"We're over the moon, it was a fantastic swim," Kean's coach, former champion backstroker Gary Hurring, told the Herald last night.
"We knew he needed something special and Gareth stepped up."
With the first five finishers from a slick first semifinal advancing, Kean just made it.
Jeremy Stravius (France) was fastest into the final in 52.76s.
Another Frenchman, European champion Camille Lacourt, won Kean's race in 53.09s, with American David Plummer second in 53.30s.
Hurring suspected Kean could go faster than in his morning swim "but not that much faster".
He credited the work the pair have done on Kean's start and his turn as crucial. "There's been a quantum leap to what he was doing at the Commonwealth Games in Delhi."
At Delhi last year, Kean won a silver medal in his favoured 200m event. The 100m is his secondary discipline and that's why Hurring was so chuffed last night, not to mention Kean.
"He's very happy. He's got a smile from ear to ear," Hurring added.
Both North Shore's Melissa Ingram, in the 100m backstroke, and Matt Stanley of Matamata, in the men's 200m freestyle, missed their semifinals.
Ingram was 17th, missing out by .09s, clocking 1m 01.48s in an event where American Natalie Coughlin was top qualifier in 59.73s.
Stanley was 23rd out of 25 with 1:48.93, which was still 1.32s inside his best time of the year.
Hard work paved the way for Lauren Boyle to be the first Kiwi finalist on the opening day 24 hours earlier.
Boyle finished sixth in the final of the 400m freestyle, after slashing her own national record in the morning heats and going under her old record again in the final.
Teammate Glenn Snyders also set a significant record, becoming the first New Zealand breaststroker to go under the one minute barrier in finishing second fastest in the 100m heats.
He was up with his season's best in the semifinal but could not replicate his morning effort and missed out on a place in the final by just .033s.
Boyle, 23, was third-fastest qualifier in the morning, clocking a superb 4m 05.61s. This was almost 2s faster than the national record she set in April, and means the ex-University of California Berkeley swimmer has dropped nearly 4s from her 400m time this year.
Boyle returned permanently from the US after completing her degree two months ago to train under Mark Regan at the Swimming NZ high performance centre. "I've been working really hard with Mark and I think the hard work is paying off and I am definitely thinking about improving every day," she said.
Italy's Federica Pellegrini retained her world title in the final in 4m 01.97s from double Olympic champion Rebecca Adlington of Britain, with Boyle sixth in 4:06.11 - 1.5s under her old national record.
- additional reporting NZPA