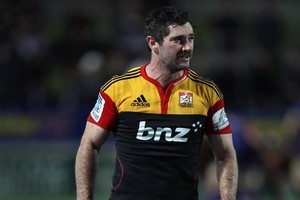 A Waikato supporter openly wept, while hardened Auckland fans struggled to find the words to adequately explain their feelings.
I exaggerate of course. But the alleged news, later dispelled, that Stephen Donald would be joining the Blues next year was the main topic of conversation around the Herald office early yesterday.
This chit chat didn't go on for long, but it did take place and that was significant in itself. Donald has a cult following, and one that is not necessarily in support.
He's a man widely regarded as having been raised above his level of competence in the All Blacks, a decent sort who quickly sunk when chucked in the deep end.
It takes a lot for a rugby player's transfer to generate much interest in our office. Yet there was something so incongruous about Donald - an icon of Waikato rugby - playing for an Auckland side that his supposed move north immediately hit the headlines amongst the Herald people who write and make the headlines.
Hours later, the Auckland chief executive Andy Dalton refuted the newspaper claim that Donald had signed for the Blues.
So what are we to believe? We've all been down these routes before, of claim and counter-claim about players signing for or leaving clubs, provinces and even countries. It is a tricky business for the media, a fluid world where it is often hard to know who or what to believe.
However, an Auckland Rugby spokesperson gave the Herald further assurances that Donald is not on his way up the motorway, meaning that Blues supporters are unlikely to enjoy the dubious delights offered by the galloping Waiuku test discard.
This story-from-nowhere is a tangled saga.
Donald was to have joined the English club Bath, having seen the writing on the wall for his career in Hamilton. Thousands of New Zealanders have worked in Britain, but Old Blighty has to draw a line somewhere and this line zoomed across Donald's path, denying him a work permit.
Suddenly, somehow, Donald was touted as a Blues signing, where he would compete for starts with the rising Gareth Anscombe.
Anscombe - now there's a name that brings hope to the heart.
The Blues need to have other No 10 options to support Anscombe, but it has been frustrating to witness repeated inferences that the rising first five-eighths is somehow not yet ready for Super 15.
Rugby is a young man's game these days and the more people imply that Anscombe isn't ready, the more he might start believing it. Anscombe is 20, not at primary school.
A player like Donald might perfectly complement Anscombe as he takes the early steps in his Super 15 career, but his presence could also be an impediment if the coaches keep leaning on experience and the young player continually feels insecure about his position.
The Super 15 should not be regarded in an overly exalted way. It is a physically arduous tournament, yes, and one which will test a rookie's endurance and concentration. But the standard this season was often very ordinary.
The real story concerning the development of Gareth Anscombe is the Blues' outright failure to establish a star No 10, relying instead on the fly-by-nighters Stephen Brett and Luke McAlister this year. Brett was a Cantabrian through and through who fell out of their queue. McAlister's idea of dedication to any cause was summed up by his North Harbour no-show last week.
Anscombe will be asked to make his way in professional rugby with a franchise that has tripped up on erratic ways. To my mind, he is good enough to slot into a well oiled Super 15 machine and we all know where one of those exists. But he will have to provide the oil in the Blues.
As events are playing out, Anscombe may have to learn his trade the hard way. Purely as a backup, Donald wouldn't have been a bad bet considering what else is available in the market. Have faith in Anscombe though. He looks like a young footballer who can quickly rise to the situation, and if the Blues have faith it will help him on the way.
WEEKEND WINNER
Samoan rugby - and the World Cup. A massive giant-killing feat has put early life into the tournament.
WHAT TO WATCH
The All Blacks ... and Fiji of course, although they won't feature much at Carisbrook.