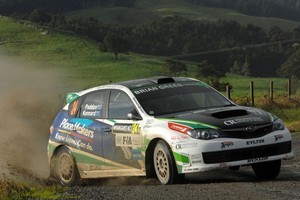 High-flying Kiwi rally driver Hayden Paddon is just 6.2 seconds off the lead heading into day two of the International Rally of Whangarei.
Australian Chris Atkinson leads after Paddon crashed early on day one.
Atkinson says his focus is the Asia/Pacific Rally Championship, so he';s worried about keeping ahead of Great Britain';s Alistair McRae, not Paddon.
"We're doing what we have to, I'm sure Hayden will be fast, I'm not going to be upset if he gets away from us,"; says Atkinson.
Today's action is expected to get rolling around 8am.
- NEWSTALK ZB