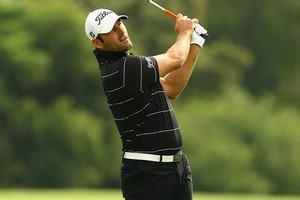 Mike Hendry hopes familiar surrounds will work in his favour as he defends the Indonesian Open golf title this week.
The New Zealander posted a breakthrough victory in the same OneAsia Tour event 12 months ago and he would like nothing more than to hold on to the title.
Hendry propelled his name into the spotlight a year ago with an emphatic seven-stroke victory in the Open but has yet to replicate that sort of form in 2012.
He is presently 18th on the tour's moneylist with tournament income of US$49,495 ($63,917), well short of the US$273,707 banked by Korea's Kim Kyung-tae and behind two other New Zealanders in Michael Long, eighth with US$81,190, and Gareth Paddison, 12th with US$67,718.
Paddison will join Hendry in Jakarta for the first round on Thursday week but the Perth-based Long is elsewhere, holidaying with family in France.
Hendry said his victory in Indonesia last year had raised his own expectations.
"I am putting extra pressure on myself to perform," the 31-year-old said.
"I need to get some perspective and remember that I am playing as well as I was last year but it is different because I expect better results now.
"My results aren't that bad I am in the top 20 on the OneAsia order of merit. I have only missed one cut in the past three years so I can't complain too much."
Hendry has nothing but fond memories of his last visit to the Damai Indah Golf Club near Jakarta and said he felt no extra pressure as the defending champion.
"It is just another event and there is no more pressure than any other event. The only pressure I feel is from myself and meeting my expectations.
"I am happy to go back there and try to defend it but realistically we all know how hard it is to win a golf tournament and it is unrealistic to target one in particular."
- NZPA