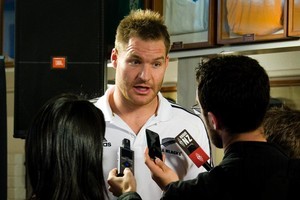 Lock Ali Williams had known about his All Black restoration for a while but he looked and acted yesterday like a nervous rookie.
Normally the 30-year-old bounces around, taking the mickey out of others and interacting with fervour.
Perhaps it was the 31-month international interlude that coach Graham Henry referred to, but he was unusually twitchy.
He has not worn the black jersey since late 2008 because of injury and there were hamstring and form strains this season.
"For the first time I don't really know what to say, to be honest," he admitted as he thought about adding to his 61 caps.
It was rewarding to reach his initial squad selection target and to conquer the doubts and confirm the inner beliefs he had about his ability.
"The fact is that if I get the chance to put the jersey on, I have to help it in every way I can, so I am excited," he said.
At one stage in his comeback Williams' worry was whether he would walk or run again properly and once that hurdle was cleared he had to retune his rugby thinking.
"I knew I could make it," he said. "It was just a matter of whether I could do it this year which is a pretty big thing.
"I have always had that burning desire to get back into the jersey and we are close now and the hard work starts."
He was indebted to the work and faith Blues coach Pat Lam had shown in his character and ability.
His rugby goals were to start for the All Blacks and beyond.
"I don't want to accept second this year, I don't think I should and I think the reality is, the only reason we are in it [World Cup] is to win the bloody thing."
He was nervous. He did not quite know what to do as he went through a series of interviews after the All Black squad was announced.
"It is better than the first time. I don't really know what to say, to be honest," Williams said.
"I am excited but I know I haven't done what I need to do yet. I haven't put the black jersey on. I want to show people there is still a lot more in me."