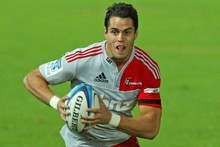 One of the great sporting stories of the age may have a sad epilogue with the Crusaders likely to lose some players no longer willing to live in Christchurch.
Sonny Bill Williams is seriously considering both the Blues and Chiefs. The world's best off-loader saw his inner city apartment damaged by the February 22 quake and, with his mum in Auckland, the city where he grew up, the prospect of returning 'home' is appealing.
Robbie Fruean has also been affected by the quake and the Hurricanes are desperate to take him back. He left in 2010 ranked behind Conrad Smith at the Hurricanes. But, with Ma'a Nonu having moved on and depth clearly important, his former franchise are hopeful he'll return.
Zac Guildford and Sean Maitland both ran into town in their bare feet on the day of the second shake as their respective partners were in the CBD. The former, despite being troubled by the volatility of the city, says he wants to stay. Maitland is a Waikato boy and the arrival of Dave Rennie at the Chiefs could have a bearing on where the flying wing ends up.
Kieran Read has had a hard job persuading his wife to stay in Christchurch - she and their young daughter spent time in Pukekohe during the campaign.
But, despite the fact the Blues would love to sign him, he's another who says he wants to guts it out.
"I definitely want to be here," says Read. "You never know what Mother Nature is going to throw at you but I'm sure, when the city can rebuild, it's going to be pretty cool. It's still a great place to live.
"It's hard when you are away because you leave behind family and you know what they're going through. We had got used to it and it was sweet but then last week [major after] shocks knocks you back down to earth."
Tom Marshall, the Tasman and Crusaders fullback, is being targeted by the Blues and is thought likely to go.
When Israel Dagg is fit, he will take back the No15 jersey whereas the versatility within the Blues means Marshall could see more game time at fullback than he will at the Crusaders.
The worry for the Crusaders is that now that the campaign has ended, many of their players may collapse emotionally. They have been amazingly resolute and focused for the last five months and their mental strength remarkable.
They haven't moaned nor found excuses and it has been inspirational to see a group galvanise themselves so effectively and powerfully. But the reality is there will be a comedown.
The toll will tell on some who have been living in houses in disrepair or spending large periods of time with their families in other places. They have done it hard and even the most committed among them will not relish having to repeat their schedule next season.
That's the key problem. Having certainty around the future of AMI Stadium would be helpful. Knowing they have a permanent home again would remove much of the stress - as the prospect of shifting around the country again to play home games is hard to relish.
Even knowing they have a permanent 'temporary' home in the region would probably be enough for most players so they can see they won't be packing up and heading off somewhere every week of the season.
But even then, some players and their families simply don't want to be in Christchurch. Rugby-wise they desperately want to be with the Crusaders but some are going to have to balance that against that the desires of partners and children.
By Gregor Paul

Email

Gregor