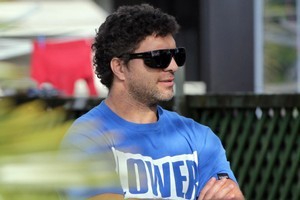 Rugby star Matua Parkinson has been banned from playing rugby until the end of the 2012 season for pulling down the pants of an assistant referee.
Bay of Plenty chief executive Mike Rogers said Parkinson had shown remorse for swearing at assistant referee Ben Brooks and pulling his pants down and he hoped he would return to rugby after his ban. "As far as we are concerned, Matua was treated the same as any other individual," Rogers said.
"Matua has been involved in rugby for a long time and contributed to the sport for a number of years in the Bay. Hopefully he takes this from a positive stance and would like to be involved in rugby after the ban."
Parkinson was watching his club side Rangataua play Te Puke in a Bay of Plenty club rugby match last month when he "downtrou-ed" Brooks.
The father-of-three, who led the New Zealand Sevens team to a World Championship, also swore at Brooks.
Brooks said yesterday that the incident would not put him off working as an assistant referee, but he wanted to put the incident behind him.
"It's between me and Matua," he said.
District Court Judge Paul Geoghegan held a hearing into the case last Wednesday, and found Parkinson guilty of referee abuse.
Parkinson, a District Health Board member, has seven days to appeal against the decision.
Meanwhile, a Timaru Boys' High School rugby supporter has received a 12-month ban from the sidelines of South Canterbury rugby matches after an incident involving a referee.
South Canterbury Rugby Football Union chairman Brent Isbister said the incident happened during match between TBHS and St Andrews College from Christchurch.