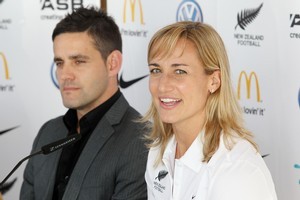 New Zealand are heading home after tomorrow morning's final pool match against Mexico at the Women's World Cup but they are determined not to leave empty-handed.
Encouraging 2-1 losses to Japan and England have left coach John Herdman and his Football Ferns confident they can get something from the match in Sinsheim.
After battling efforts against teams ranked far higher, 24th-ranked New Zealand see the match against the Mexicans as a realistic chance of a breakthrough first point at this level.
Japan are fourth and England 10th in Fifa ranking while Mexico are 22nd.
"We were disappointed with the first two losses," said midfielder Hayley Moorwood. "But we are going to prepare like any other game and are looking for our first win at a big world event.
"We performed very well in patches of our first two games and we'll need to bring that sort of form into the Mexico game."
Sitting third in Group B, Mexico can still progress to the quarter-finals with three points but only if Japan beat England and the Mexicans emerge with a better goal difference.
Herdman is expecting a torrid start to the match as the Mexicans seek to keep their hopes alive.
"Mexico are going to throw everything at us. They have to take three points and win by a significant margin.
"They will come right at us. That's the beauty of this match. It is not a nothing match. There will be a few fireworks ... but I think our team are capable of getting up and getting a result."
Mexico are a rising force in women's football with a 2-1 win over world No 1 United States and a 5-0 Cyprus Cup win over the Football Ferns to back their claims.
"They have got a number of threats," said Herdman. "They are definitely a counter-attacking team. They have Dominguez up front and I think she has scored 60-odd goals from 90-odd games."
Against Japan, one of six teams to have already booked a place in the last eight with two wins, and England, who drew 1-1 with Mexico before beating New Zealand, the Football Ferns have not been overawed and have deserved the plaudits going their way.