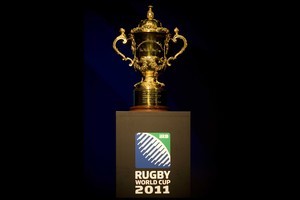 Grassroots rugby clubs face a $3000 fee for screening Rugby World Cup games live - unless they exploit a bureaucratic loophole by making them "themed" events.
Strict conditions govern RWC 2011 events and marketing, prohibiting businesses and organisations from advertising "World Cup" functions.
In Auckland recently, organisers of a major dinner featuring Cup winners John Eales, David Kirk, Will Greenwood and Bobby Skinstad were not allowed to mention the World Cup - even though that was the clear focus of the evening.
Under the Rugby World Cup 2011 (Empowerment) Act 2010, the $3000 fee (a one-time payment for the entire tournament) is paid to the Auckland Council for the rights to screen the games to anyone who is not a member of the rugby club in which it is being screened. Clubs can show the games to members without paying the fee, but if someone brings a guest the club must pay.
Clubs depend on such occasions to raise funds, and they say such a substantial fee could put many off.
The council acts as an agent for the Rugby World Cup Authority. City and district councils are charged with doing the administrative work for it, but the authority hears applications and makes final decisions.
In granting a World Cup liquor licence, the RWCA can impose restrictions on what kind of liquor they sell, what size glasses they use, and whether people are allowed to play pokies at the same time.
However, clubs have been told they can avoid the fee by holding nationally themed nights to coincide with RWC matches - a loophole that would required them to pay only a $68 fee for the duration of the tournament.
A rugby club can advertise a French-themed night to coincide with the All Blacks-France pool match, asking guests to wear berets, eat snails, drink claret and watch the big game.
North Shore club captain Chris Tankard said he didn't know how the authorities would be able to enforce the distinction.
He asked: "What's to stop people going to their local rugby club and turning on the TV?"
While the point is to protect the best interests of local businesses and bars, Tankard said his club was only interested in its own members - but there were advantages rugby clubs could offer that bars could not.
"It's better for families - you can't take your kids into a bar."
The onus of enforcing the RWC liquor licences will fall on police and liquor inspectors.
Police media adviser Jon Neilson said licences were needed and enforcement would continue as usual: "Nothing changes," he said.