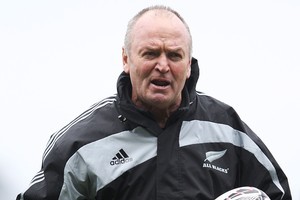 The Blues should sign up Graham Henry for their next campaign. He's already a sounding board for the franchise on a variety of coaching and player issues and is in regular contact with coach Pat Lam.
They should formalise that arrangement.
The last time Henry was associated officially with the Blues as a technical adviser to Peter Sloane and Bruce Robertson, they won the Super rugby title in 2003. Coincidence, perhaps, but one the franchise and fans appreciated.
Whatever the outcome at the World Cup, Henry is supposed to be shuffling away from his duties with the men in black. After two campaigns his time will be up.
One of his All Black sidekicks, Wayne Smith, has confirmed his departure from the group after the World Cup and revealed his next step as an assistant in the Chiefs set-up.
The Blues should tap Henry to suggest something similar. There is a vacancy.
Liam Barry has been assistant coach this season with the Blues and in recent weeks has also been dovetailing that portfolio with his work as North Harbour coach for the ITM Cup series. Once his involvement with the Blues is over this season, that will be it for Barry in the dual roles.
Cue Ted. Why not? He was the power behind the Blues throne in 2003, one of their points of difference when he went back for a year and they won the title.
After October he will down laptop, spreadsheets, video replays and other technical tools in the All Black environment. Success or otherwise, that will be the full stop on his international coaching career.
Steve Hansen has indicated he wants to carry on; his aim is to be All Black coach, with strange theories swirling that he favours assistants like Ian Foster and Mick Byrne.
Post-World Cup and several months fishing in his kayak, trying to relax with family and friends overseas or at his Waiheke Island retreat, Henry should be recharged. He probably owes his extended family some time but he's not the sort of soul to stay still for too long.
The Blues would offer him a chance for some rugby withdrawal and rehab, the methadone after mainlining the World Cup drug.
Continuing involvement without the all-consuming pressure of dealing with the sporting and business demands of the All Black job might be a welcome path for Henry. Why bring his coaching clout to a complete halt?
He's accrued more knowledge, ideas and experience than sacks of New Zealand coaches. Tipping that wisdom on the refuse pile after the Cup would be churlish and wasteful.