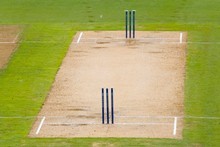 As you were, men. The International Cricket Council performed a skilled contortionist trick yesterday, doing a volte face on their own decision to reduce the World Cup tournament to 10 teams in 2015.
The tournament, to be hosted by New Zealand and Australia, will now comprise 14 teams, the same number as at this year's event in the sub-continent.
The ICC had trimmed it to 10 teams in April, then got buried under a pile of flak from the associate nations, who were effectively squeezed out by the decision.
Now the ICC has caved in to pressure, but confirmed the 2019 cup in England will definitely, absolutely, without any shadow of doubt, be restricted to 10.
Ireland, the one associate nation to perform with great credit this year, are mightily relieved.
"The initial reaction is probably just one of relief to be honest with you, relief that we now have the opportunity to qualify for the World Cup and relief that we can now devote our energy to actually trying to qualify for it," Ireland's chief executive Warren Deutrom said.
Kenya, Canada and the Netherlands failed to show much at this year's event. They will figure themselves highly fortunate to have another chance to qualify.
It is bad news for the co-hosts. New Zealand and Australia wanted a shorter, sharper 10-team event, with room for at least one associate nation to qualify through a playoff arrangement with the bottom, or bottom two test-playing nations, Bangladesh and Zimbabwe.
Their argument was based around a complete round robin, fewer lopsided games and greater ability to sell tickets and promote games with certain knowledge of who was playing whom, when and where.
But what the ICC has given on one hand, they've taken away with the other. Teams for the world T20s in 2012 (Sri Lanka) and 2014 (Bangladesh) have been trimmed from 16 to 12.
In other developments at the ICC meeting in Hong Kong:
* Runners will be barred from all international cricket, even if a batsman is injured.
* Batsmen will be dismissed for obstructing the field if they change direction while running to prevent a run-out, and also can be run out at the non-strikers' end if backing up too far.
By David Leggat

Email

David