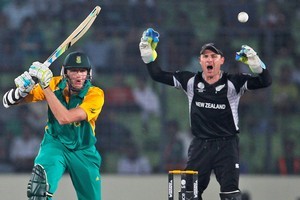 New Zealand Cricket today announced the international schedule for the 2011-12 season.
The Black Caps will open the international summer with one Test, three One-Day Internationals and two Twenty20 matches against Zimbabwe in the period from January 26 - February 14.
They will then contest three Twenty20 matches, three One-Day Internationals and three Tests against South Africa from 17 February to 27 March.
Whangarei's Cobham Oval will host it's inaugural One Day International against Zimbabwe while Dunedin's University Oval will hold a test match against South Africa and a ODI against Zimbabwe.
Auckland's Eden Park will have two Twenty20s and an ODI.
NZC Justin Vaughan said that the Black Caps schedule for the home season of international cricket offered a good mix of formats, strong competition for the Black Caps and a good spread of cricket around the country for fans.
"Unfortunately we have not been able to allocate any matches to AMI Stadium, in Christchurch," said Vaughan.
"Following damage to AMI Stadium from the February earthquakes and subsequent uncertainty about timelines for remediation due to on-going aftershocks, Vbase advised New Zealand Cricket that it could not absolutely guarantee that the venue would be available to host international cricket in the coming season."
Recently appointed Black Caps captain, Ross Taylor, welcomed the announcement of the National Bank Series for 2011-12.
"It will be a very challenging summer of international cricket and we are looking forward to taking on South Africa and Zimbabwe at home in front of our fans," he said.
"South Africa is currently ranked second in world Test rankings so the three-Test series against them will be an excellent gauge of our progress."
Following recent sign-off by the ICC as an approved ground for international cricket, Whangarei's Cobham Oval has been allocated an ODI against Zimbabwe on Waitangi Day next year.
Justin Vaughan applauded Northland Cricket for the hard work they put into to the ground and facilities at Cobham Oval.
"It is pleasing to be able to reward Northland Cricket by allocating an ODI to Cobham Oval. It is a credit to their hard work and I know they are thrilled to host Zimbabwe in February," Vaughan added.
Black Caps v Zimbabwe
26/01/2012 - 30/01/2012 - Test Match
McLean Park, Napier
3/02/2012 - ODI
University Oval, Dunedin
6/02/2012 - ODI
Cobham Oval, Whangarei
9/02/2012 - ODI
McLean Park, Napier
12/02/2012 - Twenty20
Eden Park, Auckland
14/02/2012 - Twenty20
Seddon Park, Hamilton
Black Caps v South Africa
17/02/2012 - International Twenty20
Westpac Stadium, Wellington
19/02/2012 - International Twenty20
Seddon Park, Hamilton
22/02/2012 - International Twenty20
Eden Park, Auckland
25/02/2012 - ODI
Westpac Stadium, Wellington
29/02/2012 - ODI
McLean Park, Napier
3/03/2012 - ODI
Eden Park, Auckland
7/03/2012 - 11/03/2012 - Test Match
University Oval, Dunedin
15/03/2012 - 19/03/2012 - Test Match
Seddon Park, Hamilton
23/03/2012 - 27/03/2012 - Test Match
Hawkins Basin Reserve, Wellington
- HERALD ONLINE