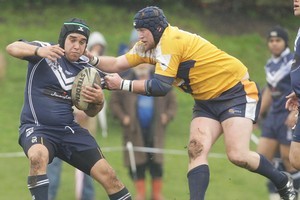 Fists flew and a player's father was hit with a fence stake as rugby league rivalry erupted in violence in Rotorua at the weekend.
The brawl, on field and off, was sparked when the Otumoetai Eels Rugby League Club scored another try against Ngongotaha in the WaiCoa Bay premiership on Saturday.
Eels fullback Michael Johnston took a knee to the head in the feisty second half of the game.
He was taken to Rotorua Hospital with suspected severe concussion. He may be out for three weeks.
Later, with barely minutes left on the clock, the referee called time when the ball went into touch.
Shortly before the end of the match the father of a Ngongotaha player brandished a fence stake at supporters on the sideline - striking the father of one of the Eels players, Eels chairman Stan Nicholas told the Bay of Plenty Times.
"There was a bit of a melee on the field and after one of the players scored, it seemed to flare up on the sideline."
The Ngongotaha man pulled a stake out of the ground that was holding rope and swung it at the Eels player's father, Mr Nicholas said.
The victim, who was with other supporters, was not badly injured and "did not retaliate or get involved".
"They just stood there in surprise and other guys stood there and said: 'There's no need for that carry on'," Mr Nicholas said.
"I think that guy got a bit embarrassed by his actions."
The referee called time and the Eels won the match 40-10.
The win was bittersweet, Mr Nicholas said.
"The game has really cleaned up over the last few years. We don't need something like that to put a dampener on our game."
Mr Nicholas said players were concerned at what had happened and the club was still deciding whether to lay a complaint.
Ngongotaha coach Damien White told Rotorua's Daily Post the fight was "ugly".
"I don't like it myself but it doesn't help when you have [people] on the other side rarking the players up and encouraging them. I said to the touch judges they had to control the game.
"You can't blame the officials, it's the boys at the end of the day and the officials are doing the best they can, but as they say, you give a monkey a machinegun ..."
Marcus Reynolds, who oversees rugby league in the Waikato, Bay of Plenty, Coastline and Gisborne regions, said he was disappointed to hear of the fight. Such incidents were "very uncommon" these days.
"It's people's perception of rugby league that there can be fights from time to time but that happened more in the 70s and 80s rather than today. Things are very different these days.
"I'm very surprised to hear [about the fight] because the competition so far has been absolutely superb and the discipline shown by the players and clubs has been outstanding."
- reporting by APN and Genevieve Helliwell