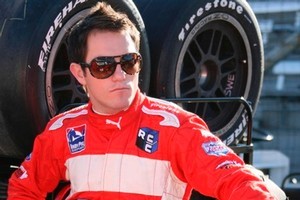 Kiwi Wade Cunningham was on track for an impressive IZOD IndyCar Series debut at the Firestone Twin 275s meeting in Texas last weekend, only to be sent spinning into the wall late in the first of two races as he was passing lapped driver Charlie Kimball.
Having qualified eighth out of a field of 32 cars, Cunningham was circulating in ninth place and confident he could get to eighth when the incident happened.
"I had put him [Kimball] a lap down but he had been drafting me for several laps after that, then tried to go under me into turn three," said Cunningham.
"Instead, he under-steered into the left rear of my car and put me in the wall. I was just lucky [Motorsport team boss Sam Schmidt] had another car I could use in the second race."
That luck held through the grid draw process for the second race, with Cunningham starting from the front row alongside pole-sitter Tony Kanaan.
However, the second car was not as well set-up as the wrecked car, and he slipped slowly back down the field to cross the line in 25th place.
Afterwards he told the IndyCar.com website: "It's been a long night. Looking at the positives, I got a lot of experience out there tonight and I was in a lot of traffic, especially in the second race where I was just trying to stay out of the way.
"I didn't know what to expect heading into the first corner in a different car, with a different set-up and in a car I hadn't even sat in before. It was just a big unknown. I tried to make the most of the new tyres on the first few laps.
"But, unfortunately, it's a road-course car and not in super-speedway trim. Once I got back into third or fourth - and you get in the turbulent air and obviously I wasn't comfortable in the car - it was just tough to hang on at that point.
"Overall, it was a tough night and it was particularly tough to get over the crash in the first race because we were running so well."
This weekend's meeting was the first of three races Cunningham will contest this year in a Creatherm/Sam Schmidt Motorsports cars with the second and third - both on ovals again - in October.