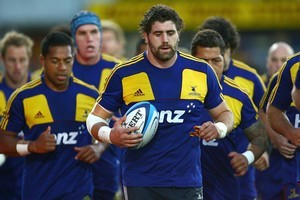 If ever there was a match where motivation should not be lacking then this is the one for the Highlanders.
Playoff chances on the line, talisman loose forward Adam Thomson's 50th match, the final game for the franchise at Carisbrook, making up for the drab loss to the Lions last week, and revenge against the Force after the shocking defeat to the West Australians last year.
Frankly coach Jamie Joseph and his assistants should not even have to go into the dressing room tonight.
If the Highlanders cannot deliver tonight, it would be reasonable to wonder whether they ever will. And that is leaving out all the drama this week which has surrounded the switch to the new playing jersey, which will be revealed tonight.
Highlanders captain Jamie Mackintosh spoke this week of making up for last week's loss to the Lions.
"We just need to get back to what we were doing good. We were a team that is expected to win and that is not really our tag. We would prefer to go in under the radar. If we win this week it could be anyone's going into the playoffs," Mackintosh said.
"It is a huge game for us. The biggest game of the year and a pretty awesome one for me, too.
"We were pretty disappointed with the way we played last week. We put ourselves in a pretty good position to make the playoffs and no one had given us a chance of doing that at the start of the year. We let it slip and people said they expected it to happen like that some time. That really hurt."
Motivation may not be lacking tonight but execution must also be way better than last week.
Flanker John Hardie gets his first start since being part of the side which defeated the Crusaders in Nelson at Easter. Thomson's inclusion is vital and the next three weeks will be crucial for his All Black ambitions.
- OTAGO DAILY TIMES