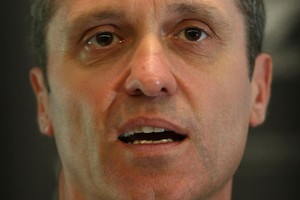 New Zealand Cricket have gone global in their search for the next national team manager, physiotherapist and trainer.
Applications for the three jobs close next Friday.
However confirmation is expected shortly of the re-signings of specialist bowling coach Allan Donald and assistant coach Trent Woodhill, both of whose work last season was well received.
"We've agreed terms with both of them," NZC chief executive Justin Vaughan said yesterday. "We haven't made any formal announcements. We're just waiting for the ink on the paper, but don't see any roadblocks and are looking forward to getting them both back on board."
Vaughan steered away from discussing whether coach John Wright would join the selection panel, saying that fell under the auspices of new director of cricket, former Australian coach John Buchanan.
He did not say that the three incumbent selectors, Mark Greatbatch, Glenn Turner and Lance Cairns, have put their hands up to continue, however "none of the three have indicated they definitely don't want to be considered".
Vaughan hoped the structure around selection would be sorted out within the next fortnight, after which the process of finalising the panel would take place.
The identity of the national captain to replace Daniel Vettori - vice-captain Ross Taylor or Brendon McCullum - would follow soon after.
IT IS expected that New Zealand's two tests in Australia in December will be at Brisbane and Hobart, although there has been no confirmation yet.
NZC are hoping to have two warmup games included, one before each test.
New Zealand are likely to play one test, three ODIs and two T20s in late October on their first trip to Zimbabwe since August 2005, with the same split on the return visit in the New Year.
The South African visit, the high point of the next New Zealand summer, is shaping up as a 3-3-2 split, to fit in the agreed 20 days of international cricket.