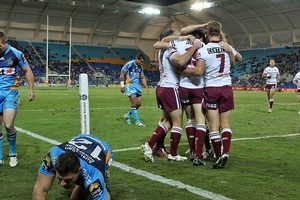 Sea Eagles 16 Titans 12
No Brett Stewart, no Jason King - no problem for the Manly Sea Eagles.
Despite losing two of their biggest names to injury, the Sea Eagles jumped to third on the NRL ladder with a 16-12 win over Gold Coast Titans on Monday night.
It was the fifth win in six games for Manly (7-3 record) - and their first at Skilled Park since 2008.
Yet Manly coach Des Hasler believed his side had plenty of room for improvement despite holding out a desperate Titans.
"It shows there is a lot of confidence in the side but we know we can play a lot better," he said.
"Because ultimately you have to play that grinding football in finals - that is what we are trying to teach ourselves.
"We are just coasting along at the moment."
Barely 24 hours after being named in the NSW team, King (ribs) was pulled from the Manly team to ensure he was fully fit for Origin I on May 25.
Manly had ruled Stewart out on Sunday with a hamstring strain - he missed five weeks with the same complaint before returning with a hat-trick last round.
"Kingy was never going to play tonight - in a week and a half he should be fine (for Origin duty)," Hasler said.
Manly were never headed on the scoreboard - but hardly had it all their own way.
Indeed the Titans had the 12,360 fans on their feet when they cut the deficit to just 16-12 with a 71st minute Esi Tonga try.
Then Titans skipper Scott Prince had a chance to apply the blowtorch in the final minute, but his cross-field kick failed to fire.
"That's probably the best I have seen the Titans play this year," Hasler said.
"They played like a team thinking their season may depend on getting a win."
An otherwise strong game from Prince not enough to stop the Titans slumping to a third loss in four games - relegating last year's preliminary finalists to second-last (3-7).
He scored an individual first half try, and looked to have pulled off a miracle try-saving tackle in the second - only for Manly winger Michael Robertson to collect his second four-pointer.
After Manly led 10-6 at halftime, Manly centre Steve Matai looked to have bulldozed his way over for a try in the 55th minute, only for Prince to rake the ball free.
Yet Robertson pounced on the spilt ball and was given the green light by video referee Chris Ward.
It typified the Titans' spirit - and lack of luck - in a game Gold Coast coach John Cartwright had deemed a "must win".
"You can handle losing games when that sort of effort goes in - it's just the consistency of our effort which hasn't been there this year," Cartwright said.
"We are hurting where we are on the ladder.
"But that (effort against Manly) has to be the minimum we accept from here to the end.
"In no way am I conceding that the season is over."
- AAP