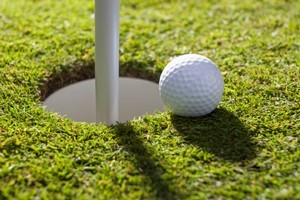 Josh Munn, a 20-year-old amateur from Palmerston North, shot the course record to pieces yesterday with a nine-under 63 on the first day of the Muriwai Open.
Amazingly, it was his first round on the 6168m links course along Auckland's wild west coast. The 63 was fashioned in perfect conditions with little wind.
It beats the record of 66 by professional Richard Lee in the same event last year.
Munn, who mixes golf practice with working nights in his parents' Feilding pizza parlour, will take a three-stroke lead today into the second round of the 72-hole Charles Tour event.
He began on the 10th hole, birdied the first three and added another on the fifth to turn in 32. There were five more birdies on his second nine as he came home in 31. He needed only 21 putts for the round.
"When I got to seven under I wondered what the hell do I do now," said a delighted Munn yesterday.
"Every putt I looked at just went in. It was a couple of 15-foot par putts that kept my momentum going.
"The good thing was that I was hitting fairways and greens and giving myself opportunities. That's what I'm going to do tomorrow."
Munn has low-round form in Charles Tour events. But this was by far his best score - "I had a 64 at the Tauranga Open a couple of years ago in the first round. I came down to earth but I didn't finish too bad.
"I was disappointed not to make the latest national squad, but it's just given me the incentive to try harder to beat the ones who were chosen."
Before Munn signed his card, the clubhouse lead was held by former Northland and New Zealand cricketer Alex Tait, who equalled the old course record with a bogey-free 66.
Now a professional based at Ngaruawahia, the 38-year-old also found the putts dropping on greens still soft from the torrential rain that curtailed the pro-am on Wednesday. One shot further back were Taranaki professional Dominic Barson and local amateur Simon Brownlee.
Auckland teaching professional Susan Farron leads the women's field with 71. Kristin Farrell, Caroline Bon and Natalie Storck had 73.
The full field will play 18 holes today before a cut to 60 and ties in the men's field and nine in the women's is made for the final two rounds tomorrow and Sunday.