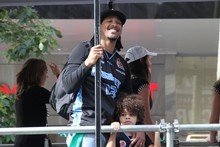 The New Zealand Breakers have celebrated their championship winning season with a parade up Auckland's Queen St today.
The side became the first New Zealand-based franchise to win a senior Australian competition when they defeated the Cairns Taipans in game three of the ANBL series last Friday at the North Shore Events Centre.
Two trucks carried the players up Queen St with signs attached saying: "Congrats record Breakers!: Auckland congratulates the NZ Breakers on taking down the Aussies".
The parade left from Britomart at midday and finished up at Aotea Square 30 minutes later where the team met with Auckland mayor Len Brown.
Breakers' guard CJ Bruton said the team will do their best to defend the title next season.
"This trophy belongs here. We intend on doing the same thing again bringing it back," he told the crowd at Aotea Square.
Retiring guard Paul Henare had to miss the parade because was due in Hawke's Bay this morning to begin his new role as the coach of the Hawks.
Gary Wilkinson also couldn't be there because his wife is due to give birth.
- HERALD ONLINE/NEWSTALK ZB