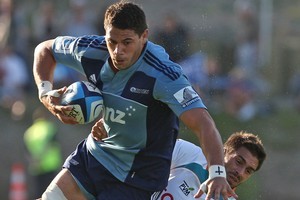 Blues lock Kurtis Haiu will take leave from rugby for an indefinite period after the discovery of a lesion in his rib last week, the Super rugby franchise said today.
The lesion was found on CT imaging, team doctor Stephen Kara said.
"This appears to be a primary bone tumour, but he will have to undergo a series of further tests including surgery to definitively confirm the type of tumour.
"Until this time, prognosis is uncertain."
The 26-year-old Haiu had noticed rib pain for several months, but attributed this to the contact involved in rugby.
However, the pain became more frequent and led to further tests including blood tests and x-rays.
Kara said Haiu would see a bone tumour specialist early next week.
Blues coach Pat Lam said the news had come as a huge shock to Haiu and the rest of the team.
"The extent of what he is looking at will not be known until further tests take place," he said.
Lam said the Blues would offer support to Haiu and his family.
Haiu has played 53 games the Blues since making his debut in 2006 scoring five tries. He has played 74 times for Auckland and has represented New Zealand Secondary Schools, and the national under-19 and under-21 sides.
- NZPA