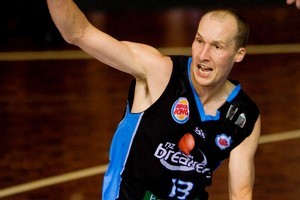 Phill Jones hunkered down in his walk-in wardrobe to ride out Cyclone Yasi, but realises there will be no place to hide when he returns to his former home for game one of the ANBL grand final series.
Sheltering from the category five cyclone as it bore down on Cairns in February was one of the former Tall Black Olympian's more memorable experiences from his two seasons in Far North Queensland - though it obviously cannot compare with the Taipans' maiden grand final appearance in Auckland tomorrow.
And the fact that his latest club matches up against the New Zealand Breakers makes the best-of-three series even more significant for the 37-year-old.
A foundation member of the Breakers in 2003-04, Jones made 92 appearances for the North Shore-based franchise over two stints, the last of which ended with a semifinal series elimination by Melbourne in 2008-09.
"I'm pretty excited about playing against my friends and former teammates, playing in front of old fans," he said after the Taipans won their semifinal decider against Townsville 93-83.
"It's going to be a great series, it's going to be a war and I think it's going to be competitive. I really can't see there being any blowouts."
Although the minor premiers swept their regular season series with the Taipans 3-0, statistically the Breakers' winning margin has diminished since a 14-point victory at the North Shore Events Centre on December 9.
They won game two, also on home court, by six on January 13 before overhauling a 20-point halftime deficit to strike a psychological blow with a 77-74 triumph at the Snake Pit.
Not only did the Breakers come back from the dead on January 30, that resurrection took place without Kirk Penney making a significant scoring impact.
The Breakers' go-to man notched only nine points after averaging 24.5 points a game in his two previous outings against the Taipans.
His low output that night emphasised the title favourites are equipped with a multi-pronged offence.
"It's not going to come down to one guy," Jones said. "They've got a number of weapons. Kirk is their main one, but you've got guys like CJ [Bruton], [Kevin] Braswell, [Gary] Wilkinson."
The priority, according to the 154-game ANBL veteran, is to cramp Penney and his fellow sharpshooters.
"We have to make them shoot contested shots and challenge them that way," Jones said. "It's also going to come down to a rebounding war and trying to stop them in transition." NZPA