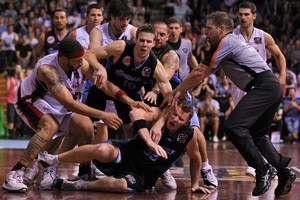 American import Gary Wilkinson could be in doubt for the opening match of the Australian National Basketball League (ABNL) grand final series after being charged for his role in a fracas during the New Zealand Breakers' decisive semifinal victory over Perth on Wednesday.
Wilkinson and two Wildcats players - Kevin Lisch and Andre Brown - were hauled before the league's tribunal today in the aftermath of the Breakers compelling 99-83 win in Auckland, a result that advanced the Auckland club to the best-of-three title decider for the first time.
Centre Wilkinson and Lisch have been accused of "unduly rough play" while Brown faces the more serious charge of striking.
The incident unfolded early in the fourth quarter when Lisch appeared to bring Wilkinson to the ground; they jostled and then Brown lashed out at the Breakers Mika Vukona.
Brown was ejected from the game by match officials and after viewing footage of the incident the ANBL decided the trio should appear before the tribunal.
The Breakers have elected to have Wilkinson's charge heard via teleconference at a time yet to be determined. The Wildcats have requested an extension past today's 1900 (NZT) deadline to consider their response because of travel commitments.
They now have until 1900 Sunday (NZT) to advise the tribunal of their stance.
The Breakers will be anxious Wilkinson is not slugged with a suspension given his integral role in the squad.
The grand final series starts at the North Shore Events Centre next Wednesday; game two will be held on Sunday in Cairns or Townsville - the Taipans and Crocodiles break their 1-1 deadlock on Sunday.
The charges are the second time the Breakers and Wildcats have attracted sanctions from the league. Both franchises were fined $A10,000 earlier this month for refusing to send their coach and players to the annual awards night in Melbourne because the function was too close to their semifinal opener in Auckland.
- NZPA